AlMalik and Hamdan bin Rashid explore promotion of ICESCO-Hamdan Prize for Voluntary Development of Education Institutions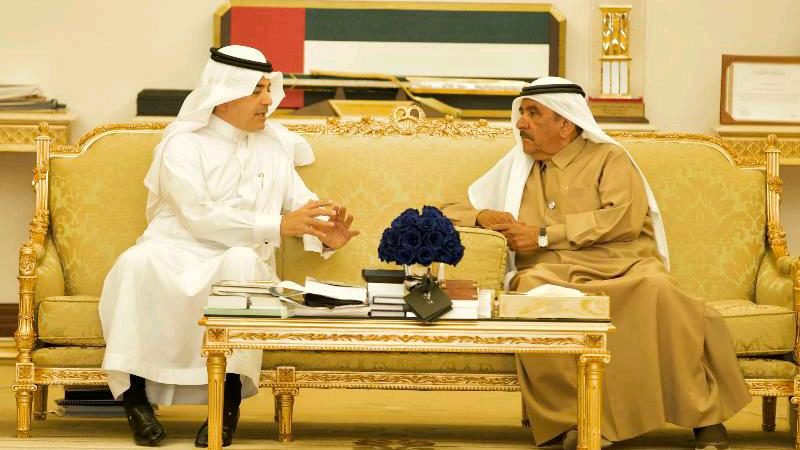 1 February 2020
His Highness Sheikh Hamdan bin Rashid Al Maktoum, Deputy Ruler of Dubai and Minister of Finance, received Dr. Salim M. AlMalik, Director General of the Islamic World Educational, Scientific and Cultural Organization (ICESCO), to explore ways to promote ICESCO-Hamdan Prize for Voluntary Development of Education Institutions in Islamic World Countries", chaired by His Highness.
In a meeting held today evening at Zabeel Palace in Dubai, ICESCO Director General expressed his thanks and appreciation to His Highness Sheikh Hamdan for his support to the Organization to enable it to fully discharge its human and educational mission in the Islamic world. Moreover, he highly appreciated the moral and financial value of the Prize.
In this vein, Dr. AlMalik invited His Highness to the award ceremony of the Prize at its first edition to be held in April 2020 by ICESCO at its headquarters in Rabat, Kingdom of Morocco.
Talks during the meeting also touched on ICESCO's activities, development programmes in the field of education in Islamic countries and future action plans, namely after the 40th Executive Council, closed at Abu Dhabi a day ago, which marks a new promising start for ICESCO. The Council adopted the Organization's new Vision, Strategic Action Plan, Amended Chart and Internal Regulations, as well as several decisions likely to allow the Organization to open up to wider global horizons.
In attendance at the meeting were Dr. Khalifa Al Suwaidi, Advisor to H.H. the Sheikh, the Prize's General Coordinator; and Dr. Ahmed Said Bah, Director of External Relations and Cooperation at ICESCO.
Established in 2017 with support from His Highness Sheikh Hamdan bin Rashid Al Maktoum and ICESCO, the Prize aims to incentivize authors of voluntary initiatives and charity works in education, namely in the development of educational institutions in Islamic world countries.
The Prize is awarded every other year to three winners from among individuals or institutions having contributed to developing education institutions in Islamic world countries. The value of the Prize stands at 300,000 US$. Each winner receives a shield and a reward of US$100,000 which will go to charity work, especially developing education institutions.