MoU between ICESCO and TWMCC signed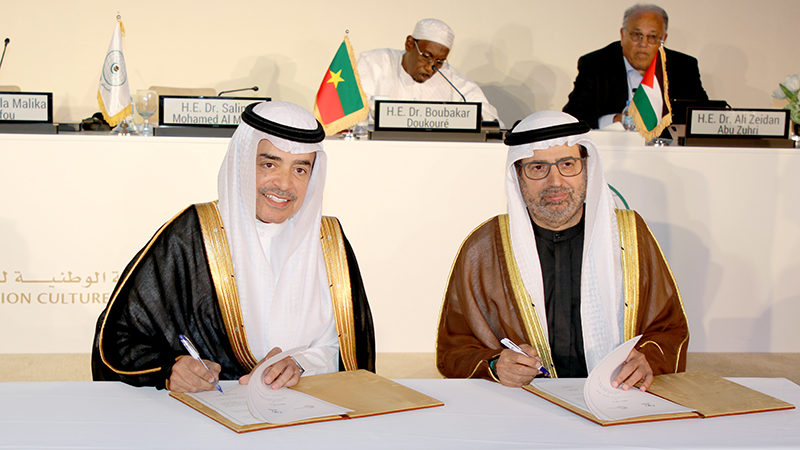 30 January 2020
As part of its new strategy, which adopts more openness to the world and the promotion of cooperation with international organizations and bodies operating in its areas of competence, the Islamic World Educational, Scientific, and Cultural Organization (ICESCO) signed a memorandum of understanding with the World Muslim Communities Council (TWMCC), today, in Abu Dhabi, on the sidelines of the 40th ICESCO Executive Council. The MoU provides for partnership in 20 programmes covering the Organization's different areas of competence.
The memorandum was signed for ICESCO by its Director General, Dr. Salim M. AlMalik, and for the TWMCC by its Chairman, Dr. Ali Rashid Al Nuaimi.
The MoU covers the period 2020-2022 and provides for implementing 20 cooperation programmes covering five (5) main fields of action. Four of these programmes cover the cultural field, namely publicizing Islamic culture, supporting the reading the Islamic book, publicizing Islamic artistic heritage, benefiting from Muslim cultural capacities. Programmes in the socio-economic field included family guidance, training on life skills, vocational rehabilitation and self-employment, and awareness raising on civil rights and citizenship requirements.
As for the educational field, the MoU covers four programmes, namely supporting education on Islamic values, school support, demands for integrating Islamic schools in formal education, and consolidating Islamic school educational revitalization.
Likewise, the MoU included four programmes in the field of information and communication, namely promoting publishing and translation, developing radio broadcasting, taking advantage of electronic communication tools, and countering hostility towards Islam. It also included the following four programmes in the religious field: developing religious guidance's methods and mechanisms, developing fatwa mechanisms, building the capacities of Muslim religious leaders, and activating the institutional role of mosques.