Niger Education Minister hails ISESCO new vision and orientations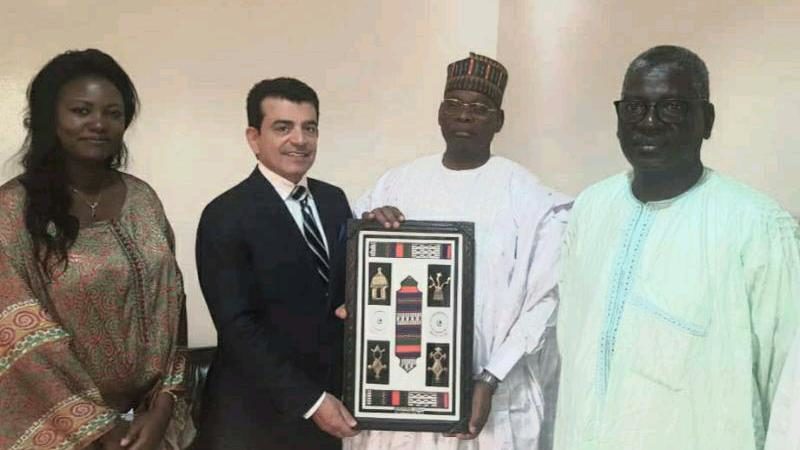 8 January 2020
The Director General of the Islamic Educational, Scientific and Cultural Organization (ISESCO), Dr. Salim M. AlMalik, and the Nigerien Minister of Primary Education, Literacy, Promotion of National Languages and Civic Education, President of the Nigerien National Commission, Dr. Daouda Mamadou Marthé, explored cooperation prospects between ISESCO and the Republic of Niger in the educational field.
During a meeting held at the Ministry of Education in Niamey as part of his visit to the Republic of Niger, Dr. AlMalik reviewed the main areas of the Organization's new vision and future action strategy, while reaffirming ISESCO's willingness to invigorate and promote cooperation with Member States, in such a way as to attain the expectations of Muslim world's peoples relevant to the Organization's action areas.
For his part, the Minister expressed the commitment of the Nigerien Government to sustain cooperation with ISESCO, pointing out that the joint programmes implemented by ISESCO in the country are ongoing. In this regard, Dr. Marthé reaffirmed that he is closely following up the implementation of two joint programmes between ISESCO and Niger in the fields of literacy and non-formal education, scheduled for this year.
Dr. Marthé also stated that he took stock of ISESCO's new vision and its outstanding programmes, namely the "Waqf" project, the International Consultative Council and the new Programme of ISESCO Goodwill Ambassadors. He also praised the fresh start of the Organization over the past six months, manifested in the positive change in implementation mechanisms that will yield tangible benefits to Member States and achieve the expectations and ambitions of their peoples.
By the same token, the Minister said that the Nigerien Government highly appreciates ISESCO's programmes in his country, lauding the programmes implemented in cooperation with the Ministries of Social Development and Women. Likewise, he underscored that his Ministry is looking forward to promoting cooperation with the Organization, citing the Ministry's intention to put forward new proposed cooperation programmes with ISESCO.
He also commended the new orientation of the Organization to directly contact Member States and define their actual needed programmes, in lieu of implementing programmes already chosen by ISESCO, irrespective of the true needs of Member States.
The Meeting was attended by Ms. Ramata Almamy Mbaye, Director of Human and Social Sciences, and Mr. Zakaria Mohamed Rabany, Programme Specialist at the Directorate of Human and Social Sciences.