ISESCO/Niger: new cooperation prospects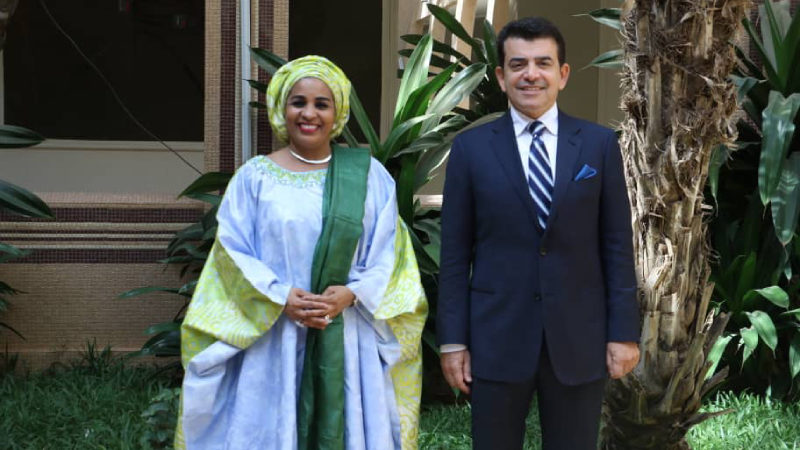 8 January 2020
The First Lady of the Republic of Niger, Ms. Lalla Malika Issoufou, at the Presidential Palace in Niamey, Niger, received Dr. Salim M. AlMalik, Director General of the Islamic Educational, Scientific and Cultural Organization (ISESCO), who is currently visiting the country as part of a tour that includes Senegal, which he visited first, and Guinea.
During the meeting attended by Ms. Amadou Aîssata, Minister for Population; and Ms. Elback Adam Zeinabou, Minister of the Promotion of Women and Child Protection, the two parties examined a number of themes relevant to the promotion of cooperation between ISESCO and Niger. The parties considered the organization of the First Gathering of the First Ladies of ISESCO's African Member States, namely the Sahel countries, end of March 2020 which will be dedicated to the issues of community development in Africa. The aim is to find solutions to violence against girls and their deprivation of education, empower women, fight illiteracy, and incorporate peace principles in curricula. All these issues will be set out in Niamey Declaration, to be released at the close of the Gathering.
The two parties also agreed that ISESCO launch, in cooperation with Nigerien authorities, a medical, social and educational caravan in a town in the Nigerien countryside, in conjunction with the Gathering. The caravan will offer medical checks for children and women; provide medication to those in need of them; launch medical awareness campaigns and hand out necessary medical equipment to the schools in the town concerned.
The First Lady of Niger donated a portion of land of her property to ISESCO's Waqf and promised to do her best to cooperate with ISESCO at the service of Member States.
The Meeting was attended by Ms. Ramata Almamy Mbaye, Director of Human and Social Sciences, and Mr. Zakaria Mohamed Rabany, Programme Specialist at the Directorate of Human and Social Sciences.
A doctor by profession, the First Lady of Niger sponsors many health institutions and associations, namely those operating in the fight against cancer and Sickle Cell Disease (SCD). She is also a co-sponsor of the Campaign on Accelerated Reduction of Maternal, Newborn and Child Mortality in Africa (CARMMA).