11th Conference of Culture Minister kicks off in Tunis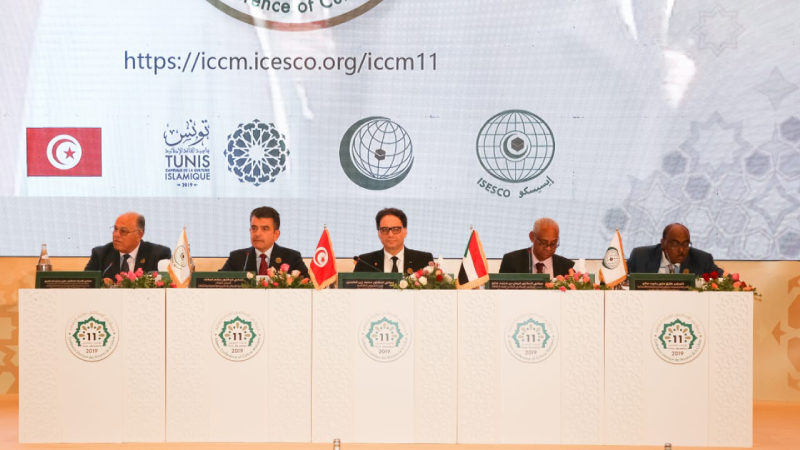 17 December 2019
Today, the 11th Islamic Conference of Culture Ministers kicked off under the theme "Toward the Development of Current Cultural Policies in the Islamic World", under the patronage of President Kais Saied, with the participation of the delegations of 50 countries and 16 international and regional Organizations.
The opening session started with an address by Dr. Mohamed Zine El Abidine, Tunisian Minister of Cultural Affairs, wherein he welcomed the guests of Tunisia, pointed out to the development of the cultural field in Tunisia over the past years, and referred to the most important activities implemented throughout 2019 as part of the Celebration of Tunis as the Arab region's Capital of Islamic Culture for 2019.
In his address at the opening session, Dr. Salim M. AlMalik, Director General of the Islamic Educational, Scientific and Cultural Organization (ISESCO), called on the Ministers of Culture and the competent parties in Muslim countries to complete their technical files for the inscription of their heritage sites on the Islamic World Heritage List, while warning that around 70% of the world heritage sites in danger are located in Muslim countries.
Dr. AlMalik also stated that ISECCO will supervise the programme of the joint inscription of a set of exemplary historical and civilizational routes (Hajj route, routes of commercial convoys, and the routes of travelers, scholars, students and manuscript, etc) on the Islamic World Heritage List, while reaffirming that ISESCO has included this issue within its new vision.
Afterwards, Dr. Faisal bin Mohamed Saleh, Minister of Culture of the Sudan, President of the 10th Islamic Conference of Culture Ministers, took the floor and stressed that the Islamic world faces major challenges in all fields, most notably the development of Muslim countries without losing their identity, and identified investment in the cultural field as the sole means to achieve such objective.
Dr. Saleh also commended the efforts of ISESCO, praised the role of the Organization of Islamic Cooperation (OIC), and thanked the Republic of Tunisia for hosting this conference.
The address of Yousef bin Ahmad Al-Othaimeen, OIC Secretary General, was given on his behalf by Ambassador Tariq Bakhit, Assistant Secretary General for Humanitarian, Social and Cultural Affairs. Dr. Al-Othaimeen stated that "the conference comes at the appropriate time. The cultural communication between the OIC Member States and the other countries is the primary objective of the OIC in coordination with Member States and the organizations operating in this field, particularly ISESCO."
Afterwards, ISESCO Awards, including the Incentive Award in the field of Traditional Industries and Handicrafts, ISESCO Award for Best Media Production, and the awards for the best cultural projects of the Capitals of Islamic Culture, were presented to the winners.
After the opening ceremony, the conference started its working session behind closed doors to consider the agenda and draft resolutions, elect the member of the Consultative Council for Cultural Development in the Islamic World, set the date and venue of the 12th session of the conference and adopt the final report of the conference.