ISESCO Director General: the application of human rights is an internal affair of every society according to its national contexts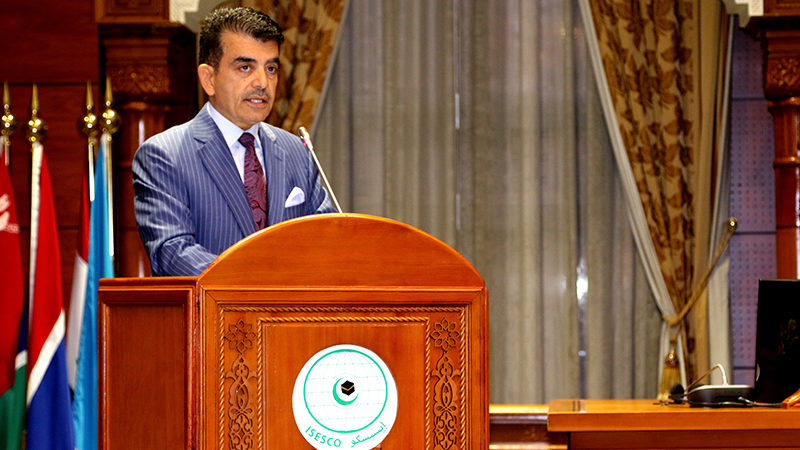 11 December 2019
**We should explore the human rights processes going  beyond the individual dimension to the collective ones and anticipating the future
Dr. Salim M. AlMalik, Director General of the Islamic Educational, Scientific and Cultural Organization (ISESCO), stressed that the application of human rights is an internal affair of every country after due proper institutional deliberations, advocacy, consultation and management according to societal consensuses, national dialogue, natural development and national contexts of each society. "Such action is not based on foreign agendas or strange references to these societies. This is one of the challenges facing us toward entrenching the culture of human rights" explained Dr. AlMalik.
This was part of Dr. AlMalik's address yesterday at ISESCO Cultural Forum, which hosted Dr. Ahmed Abbadi, Secretary General of the Mohammadia League of Scholars, former member of the Moroccan National Council of Human Rights (CNDH), to deliver a lecture on "From Human Rights to Humanity Right: Exploring contextual and knowledge requirements and approaching mechanisms", on the occasion of Human Rights Day.
At the outset of his address, Dr. AlMalik welcomed all the participants to ISESCO, which is a house of expertise for the Islamic world in its areas of competence, reaffirming ISESCO's keenness to develop new methods in the management of the intellectual fields through openness to decision-makers in various knowledge fields to participate in ISESCO's activities and listening to their proposals and opinions on the promotion of culture, education, science and communication in Member States.
ISESCO Director General added that "this is a perfect time and context for this lecture, which deserves due attention as it places the human rights issue at the core of the concerns of ISESCO, which published many relevant studies in its working languages, including "the Islamic Declaration on Cultural Rights" which was approved by the 8th Islamic Conference of Culture Ministers, held in Al-Madinah Al-Munawarah in 2014."
Besides, Dr. AlMalik made it clear that many of ISESCO Member States have taken positive strides in the process of human rights, which needs further expansion as it concerns countries and societies, achieves development, and ensures comprehensive security. "We should take into account the cultural, social, economic, environmental and technological changes which resulted in many new problematics with direct impact on Earth and humanity rights. Such problematics should be solved through the establishment of new human rights processes that go beyond the individual dimension to the collective ones and move from the present to the future", he explained.
ISESCO Director General stressed that within this new human rights prospect, going in line with ISESCO's new vision, which is entrenched through many important reforms in its plans, programmes, structure and human resources, the issue of human rights should be among the concerns of decision-makers, officials and society as it builds the societies in which security, welfare, justice and equality prevail.
Dr. AlMalik added that the system of human rights does not only concern individuals, but it covers also human groups and future generations. "However, there are historical, cultural and social contexts, knowledge requirements and implementation mechanisms that should be respected and taken into account. The human rights issue is not a slogan or a passing celebrated day. It is rather a strong culture that should be shared and implemented transparently within constructive dialogue and consultation" he stressed.
At the close of his address, Dr. AlMalik said "Muslims have given due attention to the issue of rights at the level of religious assignment, including worship, dealings, doctrines and discipline, and developed the philosophy of legislation based on preserving the human dignity. However, they should reconsider them according to an accurate scientific method and grasp all the developments of the Islamic thoughts in this field so as to enrich the human rights achievements in the general human civilizational edifice and achieve the true meaning of succession as Allah Says: 'O David, indeed We have made you a successor upon the earth, so judge between the people in truth'".