ISESCO workshop to enhance Arabic language skills for non-Arabic speakers launched in Istanbul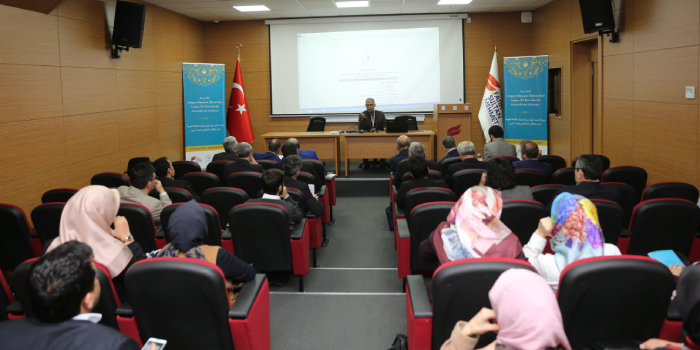 27 November 2019
Today, the workshop on "Enhancing Arabic Language Skills for non-Arabic speaking Students" at the Faculty of Islamic Sciences of the Fatih Sultan Mehmet Vakef University (FSMVU) in Istanbul, Turkey.
Co-held by ISESCO, FSMVU and Granada Editions, the workshop opened with a recitation of verses from the Holy Quran followed by a welcome address by the hosting university thanking ISESCO for its efforts in serving Arabic language and promoting its position in non-Arabic speaking Islamic countries.
In its address, ISESCO stressed the necessity to promote cooperation and coordinate efforts to handle educational and academic challenges facing Arabic education institutions in non-Arabic speaking Member States. It also highlighted the attention it accords to upgrading the work of these institutions by dedicating a considerable portion of its projects and programmes to laying the solid foundations for developed educational and qualification programmes for the educational staff operating in this field.
Attended by 30 educational officials and Arabic teachers from all over Turkey, the workshop, which is held on 27-30 November 2019, is organized as part of ISESCO's plan and educational programmes, in implementation of the recommendations of its Executive Council and the resolutions of its General Conference that call for meeting the priorities and needs of Member States; as well as the academic cooperation programme with Granada Editions for 2019.