New cooperation prospects between ISESCO and Russian Federation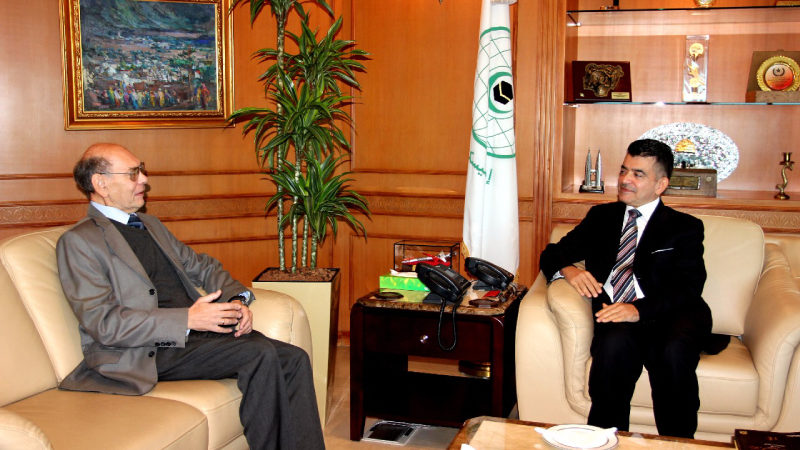 26 November 2019
Today at ISESCO's headquarters, Dr. Salim M. AlMalik, Director General of the Islamic Educational, Scientific and Cultural Organization (ISESCO), received Mr. Valerian Vladimirovitch Shuvaev, Ambassador Extraordinary and Plenipotentiary of the Russian Federation to the Kingdom of Morocco. The two parties discussed ways to develop cooperation between the Organization and the Russian Federation, as an observer state of ISESCO, in the fields of common interest.
The two parties agreed to open up new prospects of cooperation between ISESCO and Russian institutions operating in educational, cultural, and social fields and strategic studies; promote partnership in development initiatives and relations between Russia and ISESCO Member States under ISESCO's new strategy and vision.
Moreover, Dr. AlMalik and Mr. Shuvaev agreed to arrange a coordination meeting between the representatives of both ISESCO and the specialized Institutions in Russia, and prepare a joint executive programme.
The meeting was attended from ISESCO by Dr. Ahmed Said Bah, Director of External Relations and Cooperation, Ms. Ramata Almamy Mbaye, Director of Human and Social Sciences, and Dr. Kais Hammami, Director of the Strategic Prospective Centre.
It is worth mentioning that the Russian Federation became an observer member of ISESCO as of 10 January 2007, by virtue of its status as an observer in the Organization of the Islamic Cooperation (OIC) and in accordance with Article 7 (a) of ISESCO's Charter.