ISESCO Director General continues his meetings on sidelines of UNESCO General Conference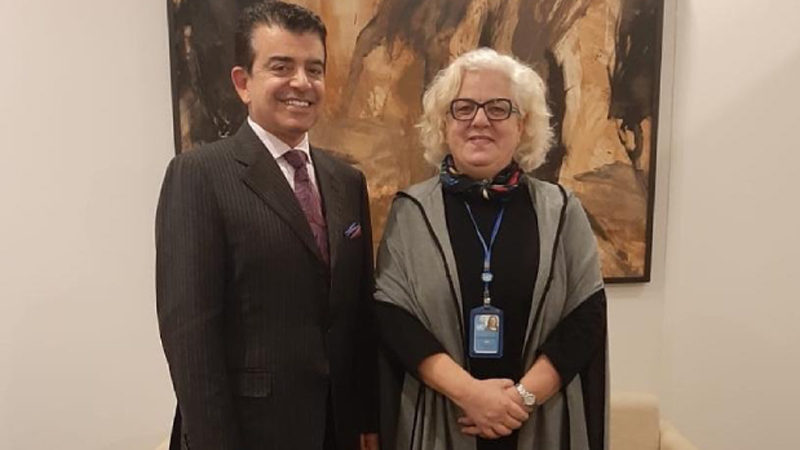 16 November 2019
On the sidelines of his participation in the 40th UNESCO General Conference, being held in Paris, France, Dr. Salim M. AlMalik, Director General of the Educational, Scientific and Cultural Organization (ISESCO), has held a series of meetings with several ministers and officials of National Commissions in Member States as well as officials in international organizations to explore ways of developing cooperation between ISESCO and these countries in the next period.
With Ms. Golda El-Khoury, Director of UNESCO Office in Rabat, Dr. AlMalik examined ways to foster cooperation and joint action between the two international organizations, as they share the same action areas and seek to preserve world heritage, support countries in reforming their education systems and ensure that projects and activities yield the maximum positive outcomes.
In the same vein, ISESCO Director General pointed out that ISESCO has reopened its office at UNESCO headquarters to further cooperation, under ISESCO's new vision that advocates openness to and action with all international organizations, civil society organizations, universities and research centers, in service of Member States' peoples.
For her part, Ms. El-Khoury welcomed the Organization's new vision and reaffirmed that the next period will witness more cooperation in fileds of action shared by the two organizations.
Likewise, Dr. AlMalik met with Dr. Hamda Al-Sulaiti, Secretary General of Qatar National Commission for Education, Culture and Science. The two parties examined the development of cooperation between ISESCO and the State of Qatar in the next phase and touched on the programmes and activities recently carried out in Qatar in cooperation with the Organization.
Moreover, the two parties reviewed the ongoing arrangements for scheduled activities as part of the celebration of Doha as the Arab region's Islamic Culture Capital for 2021 and agreed on fruitful cooperation in the next period.