In a meeting with ISESCO officials and staff members, ISESCO Director General announces an array of major projects to upgrade working methods and improve staff professional, financial and social situations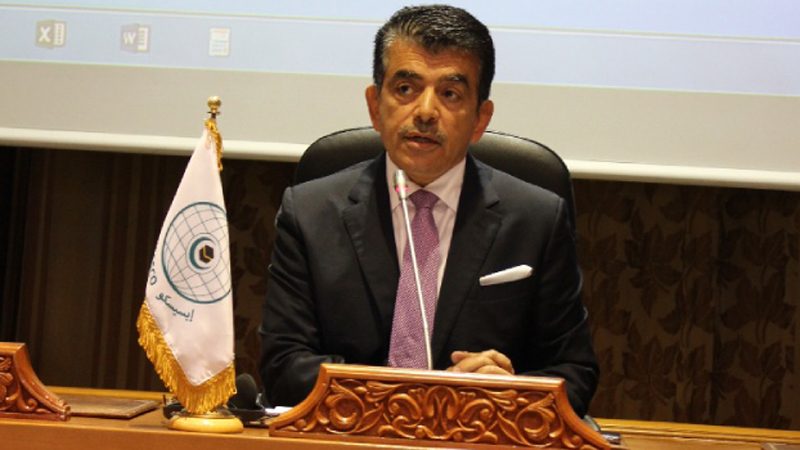 18 September 2019
The Director General of the Islamic, Educational, Scientific and Cultural Organization (ISESCO), Dr. Salim M. AlMalik, announced an array of major projects that aim to upgrade working methods and improve the professional, financial and social situations of staff members, in a meeting he held today afternoon with the officials and staff members at the Organization's headquarters in Rabat.
In this regard, ISESCO Director General stated that these projects are part of his new vision to raise the standing of ISESCO and ensure a privileged position for the Organization at Islamic and international levels, in such a way as to fully discharge its civilizational mission and consolidate the outstanding achievements it made in favor of joint Islamic action. He also reaffirmed that these projects would be submitted to the 40th Executive Council, due to be held end of January 2020, in the State of the United Arab Emirates.
Moreover, Dr. AlMalik highlighted the most important new working mechanisms, namely the amendments made to ISESCO's Charter and internal regulations using an accurate legal language; the amendments to the Rules of Procedure of the General Conference and the Executive Council, respectively; the revision of Organizational Structure; and the amendments introduced to the Staff Regulations by closing its loopholes in order to improve staff's financial, professional and social situations. The projects also seek to develop ISESCO's Midium-Term Strategy in view of keeping pace with the successive mutations in education, science, culture, communication, and catering for Member States' needs; open ISESCO's office at UNESCO in Paris, and upgrade the Organization's website to allow for the publicizing of ISESCO's projects, programmes, achievements and publications at a larger scale.
In the same vein, Mr. Najib Rhiati, Director of Culture, delivered a detailed presentation on the main amendments regarding the allowances granted to staff members and the leave and promotion systems, stating that these amendments are unprecedented in the Organization's history and constitute a comprehensive reform that will allow all staff members, regardless of their ranks and responsibilities, to enjoy more rights within a transparency and justice framework which is conducive to productivity, innovation and excellent performance.
Afterwards, many staff members put forward suggestions and opinions and inquired about the announced projects. It was also reaffirmed that these reform initiatives are of paramount importance and usher the Organization in a new stage of its history on the marked by justice, equity and promotion of diligence, productivity, development and creativity.