ICESCO and the Science Summit at the UN General Assembly explore new ways of cooperation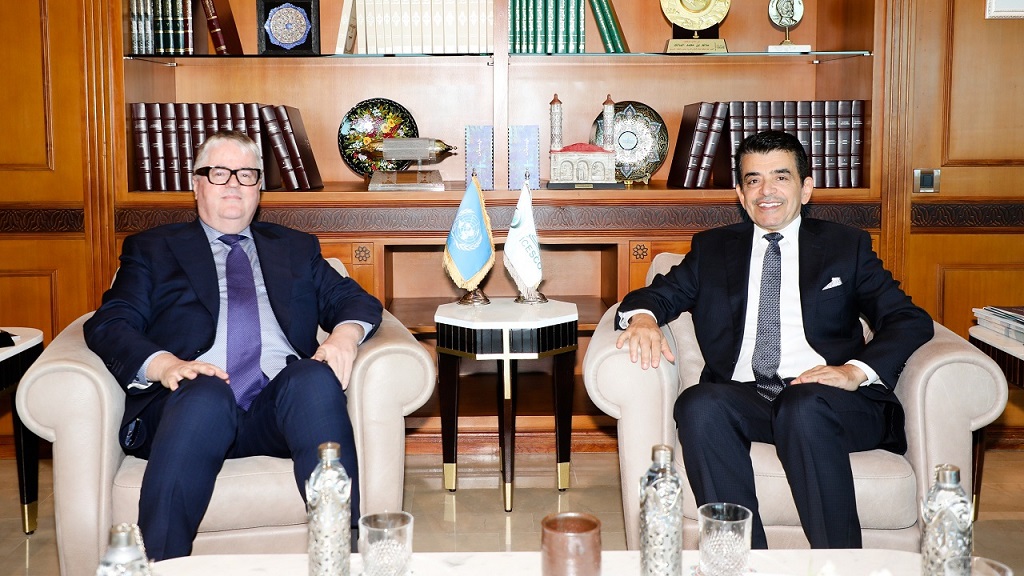 18 November 2023
Dr. Salim M. AlMalik, Director-General of the Islamic World Educational, Scientific and Cultural Organization (ICESCO), and Mr. Declan Kiranne, President of the Science Summit at the UN General Assembly, discussed prospects for cooperation between ICESCO and the Summit in the development of scientific and technological research, youth capacity-building in the said field, and addressing the impacts of climate change.
During the meeting held on Friday 17 November 2023 at ICESCO Headquarters in Rabat, Dr. AlMalik reviewed ICESCO's vision and strategic directions, especially in the field of science and technology, and building youth capacities in innovation, emphasizing the Organization's openness to collaboration with everyone to serve humanity and contribute to overcoming the global challenges in education, science, culture, and the environment. This includes investing in the possibilities offered by modern technology and establishing research chairs in various prestigious universities worldwide.
Mr. Kiranne praised ICESCO's efforts in contributing to the development of scientific research, affirming his keenness to build fruitful cooperation between the Organization and the Science Summit at the UN General Assembly. He expressed the importance of initiating a dialogue with Islamic world countries on the significance of science in achieving sustainable development goals.
The two parties addressed the importance of ICESCO's significant participation in the 9th edition of the Science Summit, scheduled to take place during the UN General Assembly session in September 2024. Moreover, they discussed inviting scientists from the Islamic world to attend the Summit to enrich global dialogue on the developments and opportunities in science, as well as organizing special activities for youth at the Summit, coinciding with the celebration of the ICESCO Youth Year.
In conclusion, both parties have concurred to sustain ongoing communication and coordination to build a partnership between ICESCO and the Summit in the field of science, and to broaden collaboration with other entities to provide necessary funding for the development of scientific research and the implementation of various programs and projects.