ICESCO and NILE agree to promote cooperation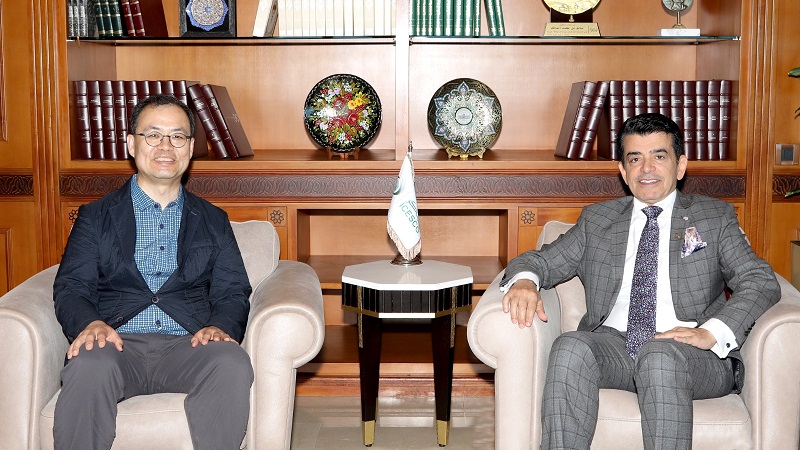 16 June 2023
Dr. Salim M. AlMalik, Director-General of the Islamic World Educational, Scientific and Cultural Organization (ICESCO), received Dr. Dae Joong Kang, President of the National Institute for Lifelong Education (NILE) of the Republic of Korea, and together they discussed ways to promote cooperation in the field of education and developing the project of building lifelong learning cities in the Islamic world.
At the beginning of the meeting, held on Thursday, June 15, 2023, at ICESCO Headquarters in Rabat, Dr. AlMalik praised the strategic partnership between ICESCO and the Institute, stressing the importance of the Member States benefiting from the Korean experience in the field of lifelong learning.
The Director-General also expressed ICESCO's keenness to implement the provisions of the cooperation agreement signed with the Institute and work jointly to implement programs and initiatives to strengthen educational systems, especially in the African continent.
For his part, Dr. Dae Joong Kang highlighted the importance of ensuring education systems' ability to keep up with world advancements, which requires exerting more efforts to capitalize on modern technology and artificial intelligence mechanisms, to ensure equitable and inclusive education for all, and provide individuals with the skills needed to face challenges and achieve sustainable development.
The meeting discussed proposals for building lifelong learning cities in the Islamic world, building capacities, developing action plans to meet the needs of ICESCO Member States, and developing indicators and evaluation mechanisms to ensure the effectiveness of these educational cities.
At the close of the meeting, the two parties agreed to sustain coordination efforts aimed at strengthening the partnership between ICESCO and the Institute and providing all necessary means of support for activities and programs to promote the field of education in the countries of the Islamic world.
The meeting was attended by Mr. Anar Karimov, Head of the International Partnerships and Cooperation Sector, Dr. Koumbou Barry, Head of the Education Sector, and Dr. Sangbong Kim, Sector Expert.