Signing Agreement to Establish ICESCO Chair on Machine Learning for Remote Sensing at Sultan Qaboos University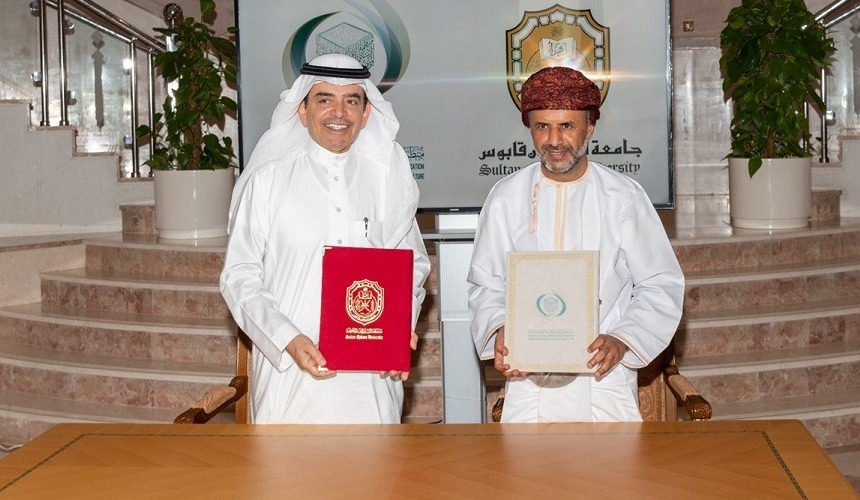 23 May 2023
Dr. Salim M. AlMalik, Director General (DG) of the Islamic World Educational, Scientific and Cultural Organization (ICESCO), and His Highness Dr. Fahad bin Al-Julanda Al Said, Vice-Chancellor of Sultan Qaboos University (SQU), held a meeting at the University's headquarters in the Omani capital, Muscat, to examine strengthening cooperation between the Organization and the University in several areas of common interest. They also signed an agreement to establish an ICESCO Chair on Machine Learning for Remote Sensing and Geographic Information Systems at the University.
During the meeting, which took place on Tuesday, May 23, 2023, in the presence of Her Highness Dr. Mona bint Fahad bin Mahmoud Al Said, Assistant Vice-Chancellor for the University's International Cooperation, and several University officials as well as ICESCO delegation, and Ms. Amna Al Balushi, Secretary General of the Omani National Commission For Education, Culture and Science, Dr. AlMalik reviewed ICESCO's efforts to build youth and women capacities and support university students in the fields of innovation and modern technology to contribute to promoting scientific research and achieving sustainable development in the countries of the Islamic world, stressing the importance of exchanging knowledge and developing partnerships between organizations, universities, research centers, and Member States Commissions in various fields to address the current challenges and anticipate future requirements.
For his part, His Highness SQU Vice-Chancellor reviewed the history of the University, its strategic vision, and the pioneering role of its colleges in the fields of higher education and community service within the Sultanate of Oman, which made it assume an international position by enhancing the quality of its scientific research, qualifying its graduates and developing its strategic partnerships.
The meeting touched upon ways to enhance cooperation between ICESCO and SQU in many fields, mainly artificial intelligence, modern technologies, space sciences, remote sensing, and machine learning.
At the close of the meeting, ICESCO DG and His Highness SQU Vice-Chancellor signed an agreement to establish ICESCO Chair on Machine Learning for Remote Sensing and Geographic Information Systems at the University, which aims to promote an integrated system for research, training, exchange of information and verification of documentation in the fields of space exploration, remote sensing and the Internet of Things, and they exchanged shields between ICESCO and the University.