ICESCO calls for development of knowledge indicators and foresight methods and adoption of "comprehensive development"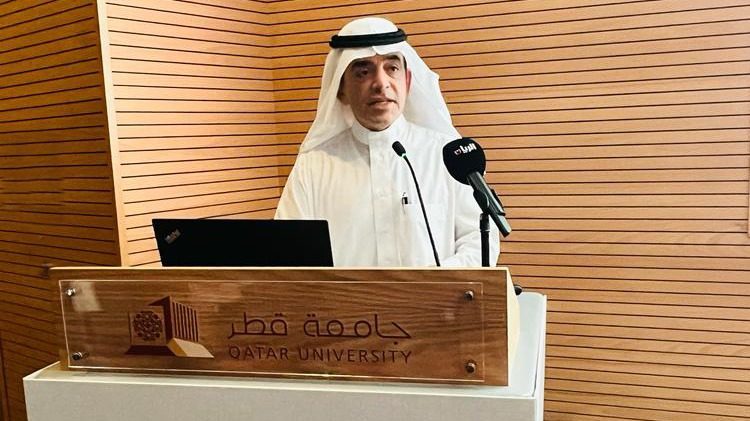 18 May 2023
Dr. Salim M. AlMalik, Director-General (DG) of the Islamic World Educational, Scientific and Cultural Organization (ICESCO), called for the advancement and promotion of scientific research to establish the foundations of the knowledge economy and the need for educational policies with well-defined objectives in the field of digital knowledge. He also underlined the importance of integrating foresight curricula as a mandatory subject in both the humanities and natural sciences, highlighting ICESCO's unwavering support for its Member States' endeavors in this regard.
These remarks were delivered by Dr. AlMalik, today, 18 May 2023, in his address during the 3rd annual meeting of the Academic Network for Development Dialogue (ANDD), organized by Qatar University (QU) at its headquarters in Doha, in cooperation with Al-Quds University (AQU) and the United Nations Economic and Social Commission for Western Asia (UNESCWA), under the theme: "Success Stories In integrating the goals of sustainable development in education, research and practice." The event witnessed the attendance of distinguished officials and experts who shared their experiences and the role of their respective institutions in developing education and research and accelerating the pace of sustainable development.
Dr. AlMalik began his address by emphasizing the need to adopt an integrative approach when tackling challenges and changes. "Sustainable development remains a central goal. With the advent of the COVID-19 pandemic and the rapid evolution of communication methods, along with the continuous advancements in artificial intelligence, the need to explore new avenues and seek innovative and progressive perspectives and methodologies to effectively achieve sustainable development has become evident," stated ICESCO DG.
He noted that ICESCO calls for considering the adoption of the concept of "comprehensive development" by 2030 to effectively address emerging issues, indicating that ICESCO has drawn various recommendations from the UN Transforming Education Summit 2022 that highlight the importance of developing a regulatory framework encompassing classification indicators that accurately identify affected groups and their specific needs, and delineate time stages to facilitate a seamless transition from periodic planning to strategic planning, while also adopting an indicator to determine the necessary budgets.
In conclusion, Dr. AlMalik underscored the profound impact of artificial intelligence applications on the structure of science and employment, noting that ICESCO has been proactive in promoting creativity and innovation and encouraging talented people, particularly through the implementation of several training programs in space science and the establishment of a range of partnerships with renowned international institutions operating in this field. He further indicated that these endeavors are guided by a cohesive scientific vision, resulting in the establishment of twenty-five (25) distinguished scientific chairs across various domains of science, literature and arts in esteemed universities worldwide.