Evening of poems in praise of Prophet Muhammad (PBUH)… "Poems of Light" light up ICESCO headquarters on World Poetry Day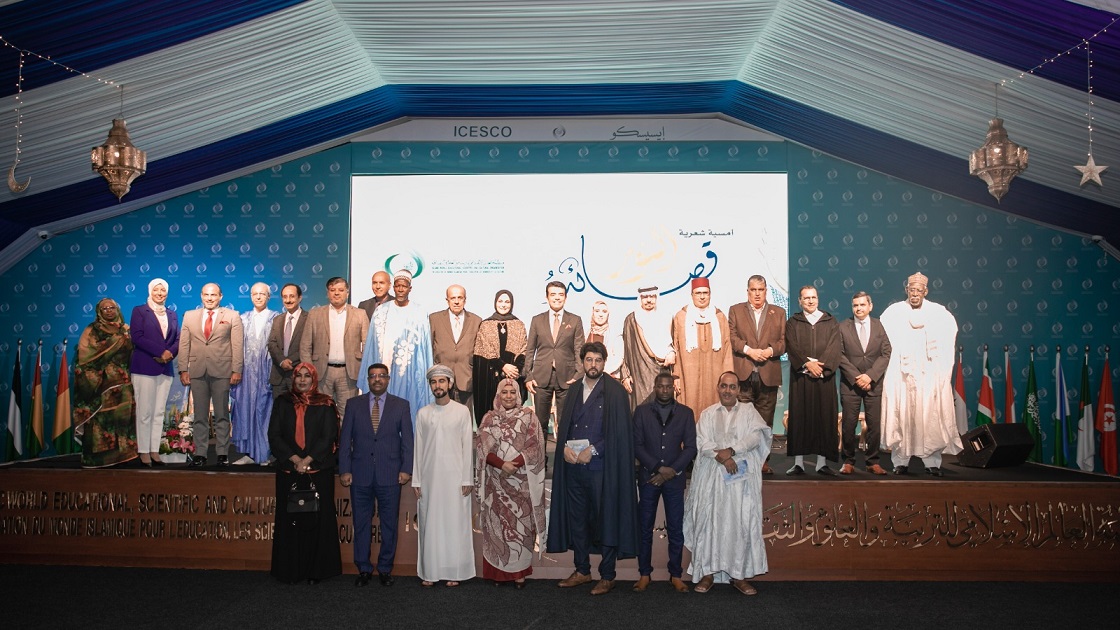 29 March 2023
The headquarters of the Islamic World Educational, Scientific and Cultural Organization (ICESCO) in Rabat hosted a major international celebration, which brought together eminent poets from various parts of the Islamic world to recite the "Poems of Light" in praise and honor of the Prophet Muhammad (PBUH).
Held by ICESCO on March 28, 2023, in commemoration of World Poetry Day, the event saw the presence of high-caliber officials, authors and poets, along with a large audience.
The evening began with a recitation of verses from the Holy Quran, followed by the remarks of Ambassador Fathalrahman, Head of ICESCO's Center for Civilizational Dialogue, in which he underlined the Organization's unwavering commitment to celebrating World Poetry Day every year, noting that this year's celebration is particularly special as it features poems on the lofty values of the Prophet (PBUH).
In his address, Dr. Salim M. AlMalik, ICESCO Director-General (DG), emphasized the importance of creativity and literature in reminding us of the magnificence, tolerance, justice, fairness and altruism embodied by our Prophet, highlighting the values of mercy and kindness, which are core teachings of Muhammad (PBUH). ICESCO DG underscored the Prophet's timeless legacy, his inspiring purity, honesty, sincerity, pride, and originality, and his endeavor to anchor serenity, tranquility, and steadfastness, which have been a guiding light for humanity.
Dr. AlMalik expressed his genuine thanks and appreciation to the revered poets who graced the event with their presence, stating that this celebration bears a powerful message to the entire world and testifies to the great love and admiration we have for our Prophet.
ICESCO DG then announced the establishment of ICESCO's "Islamic World Poetry Forum," aimed at celebrating poetry, supporting poets and making World Poetry Day an annual occasion to be celebrated each year in a different capital of the Islamic world, concluding his address with a reading of his poem "Nur al-Qulub" composed in praise of Muhammad (PBUH).
An ICESCO video featuring poems from different eras by acclaimed poets, extolling the noble teachings and lofty virtues of the Prophet (PBUH) was then screened, followed by a poetry reading in Arabic, English and French by renowned poets, namely Anas Al-Daghim from Syria, Dr. Ahmed Abdullah Al-Salem from the Kingdom of Saudi Arabia, Yusuf bin Abdul Qadir Al Kamali from Oman, Mohamed Lamine Joub from Senegal, Nabhani Ould Amghar from Mauritania, Amina Nina from the Maldives, Rawdat Al Hajj from Sudan, Rachid Yacouti from Morocco, Soumaya Yacoubi from Tunisia, Soliman Soliman from Cameroon, Wajdi Bahreesh from Yemen, Khalifa bin Arabi from Bahrain, Khadija Saidi from Morocco, Bechara Sebaaly from Morocco and Ambassador Khalid Fathalrahman. The evening was hosted by the Moroccan poet and presenter Ahmed Lahrichi.