Women, Development and Peace Forum in Mauritania calls for strengthening the role of women in entrepreneurship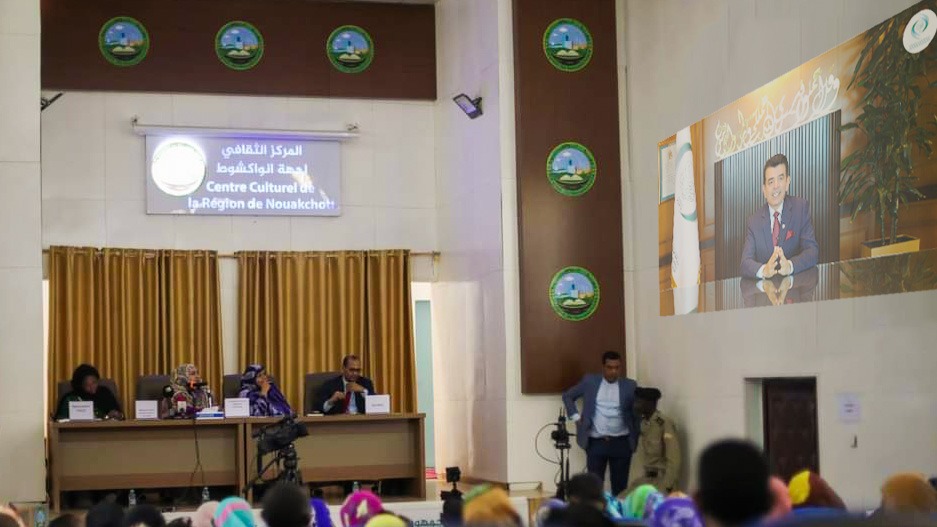 22 March 2023
Participants in the Forum "Women, Development and Peace," held by the Islamic World Educational, Scientific and Cultural Organization (ICESCO), in partnership with the Mauritanian National Commission for Education, Science and Culture, in Nouakchott, unanimously agreed on the importance of women's participation in the economic process, the exchange of ideas and good practices to strengthen the role of Mauritanian women in entrepreneurship, as well as the preservation of cultural heritage and peacebuilding.
The Forum, held on Monday, March 20, 2023, under the auspices of the Ministry of Culture, Youth, Sports and Relations with Parliament and the Regional Council of Nouakchott, as part of the celebration of Nouakchott as Culture Capital in the Islamic World for 2023, began with the recitation of verses from the Holy Qur'an, followed by a video address by Dr. Salim M. AlMalik, Director General of ICESCO, wherein he stressed that the rehabilitation of women at the socio-economic level and investment in health and education contribute concretely to fighting poverty and building prosperous and advanced societies for future generations.
He stressed that this Forum as well as the programs and initiatives organized by ICESCO represent an important cornerstone, commending the efforts of Member States to improve the status of women, including the Islamic Republic of Mauritania, which has adopted a strategic orientation that has resulted in pioneering initiatives in this field.
The Director-General of ICESCO concluded his address by reaffirming the Organization's willingness to move forward in the implementation of the strategy for the rehabilitation of women, through programmes and projects with tangible impact.
In his address, Mr. Mohamed Ould Sidi Abdallah, Secretary General of the Mauritanian National Commission for Education, Science and Culture, stressed that the Forum celebrates Mauritanian women, who have proven their presence in the fields of science, heritage and peace.
Ms. Fatimetou Abdel Malick, Head of the Nouakchott Region, delivered an address in which she stressed that the Mauritanian government has launched several programs and initiatives to rehabilitate women and strengthen their presence in various fields. Ms. Al-Zeina Mohamed Al-Amine, advisor to the Mauritanian Ministry of Social Affairs, Childhood and Family, said that the achievement of development requires the complementarity of roles between all components of society.
In her address, Ms. Aminatou Mint Zeidan, member of the 2022 cohort of ICESCO's Leadership Training for Peace and Security Programme, shared her experience in the program, stressing that it has enabled her to acquire a number of important skills.
In the session on "Women, Actors of Development and Peace," Ms. Ramata Almamy Mbaye, Head of ICESCO Social and Human Sciences Sector, reviewed the main indicators and statistics related to the status of women in Africa, as well as ICESCO's main programmes and initiatives aimed at strengthening the role of women.
At the close of the Forum, the participants watched a video produced by ICESCO on Women and Youth Leadership Training for Peace and Security Programme.