ICESCO headquarters hosts launch ceremony of "Titrit" platform for digital inclusion of 50.000 girls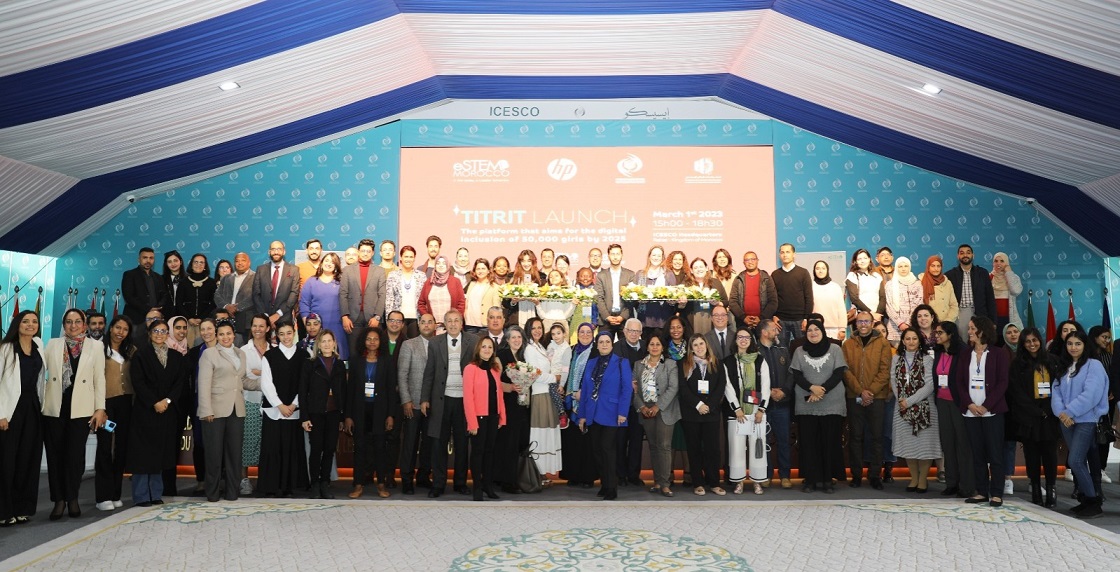 2 March 2023
The headquarters of the Islamic World Educational, Scientific and Cultural Organization (ICESCO) hosted the official launch ceremony of the "Titrit" platform, which is aimed at the digital inclusion of 50,000 girls between the ages of 8-18 from all regions of the Kingdom of Morocco. Organized by eSTEM Morocco in cooperation with ICESCO, its Federation of the Universities of the Islamic World (FUIW) and HP on Wednesday, 1st March 2023, the ceremony marks the 10th anniversary of eSTEM Morocco.
In his opening remarks, Dr. Abdelilah Benarafa, Deputy Director-General of ICESCO, emphasized that the Organization is aware of the importance of encouraging girls and women in science, technology, engineering and mathematics (STEM) and strives to promote their participation in these fields by offering them scholarships and holding workshops for the benefit of female and male school teachers and university professors.
The ICESCO official also noted that FUIW plays an instrumental role in preparing young women to access academic programmes in science, pursue a career in STEM and become successful business leaders.
Ms. Aawatif Hayar, Minister of Solidarity, Social Integration and Family, stressed that digital technology contributes to upgrading the educational process, reviewing the Ministry's efforts and programmes to promote women's participation in STEM.

Ms. Zaria Qadafi, representative of TechWomen, noted that this American initiative seeks to train and support the new generation of women leaders in STEM by holding various workshops facilitated by experts and specialists from the United States of America.
Mr. Salah Ouardi, North and West Africa and Islands District Manager at HP, highlighted the company's commitment to contributing to the achievement of sustainable development goals (SDGs) relating to bridging the digital gender divide, adding that the "Titrit" platform comes within this perspective. For her part, Mrs. Nezha Larhrissi, President of eSTEM Morocco, shared her experience in establishing the organization to promote girls' digital inclusion.
The first panel discussion, which was themed "From Silicon Valley to Morocco: Changing Perspective on Future Employment Opportunities for Women," then started, followed by a second panel discussion which discussed the role of the "Titrit" platform and information technology in bridging the digital gender divide. At the close of the ceremony, participants took group photos.