Signing of agreement to establish ICESCO Open Education Chair at Mohammed V University in Rabat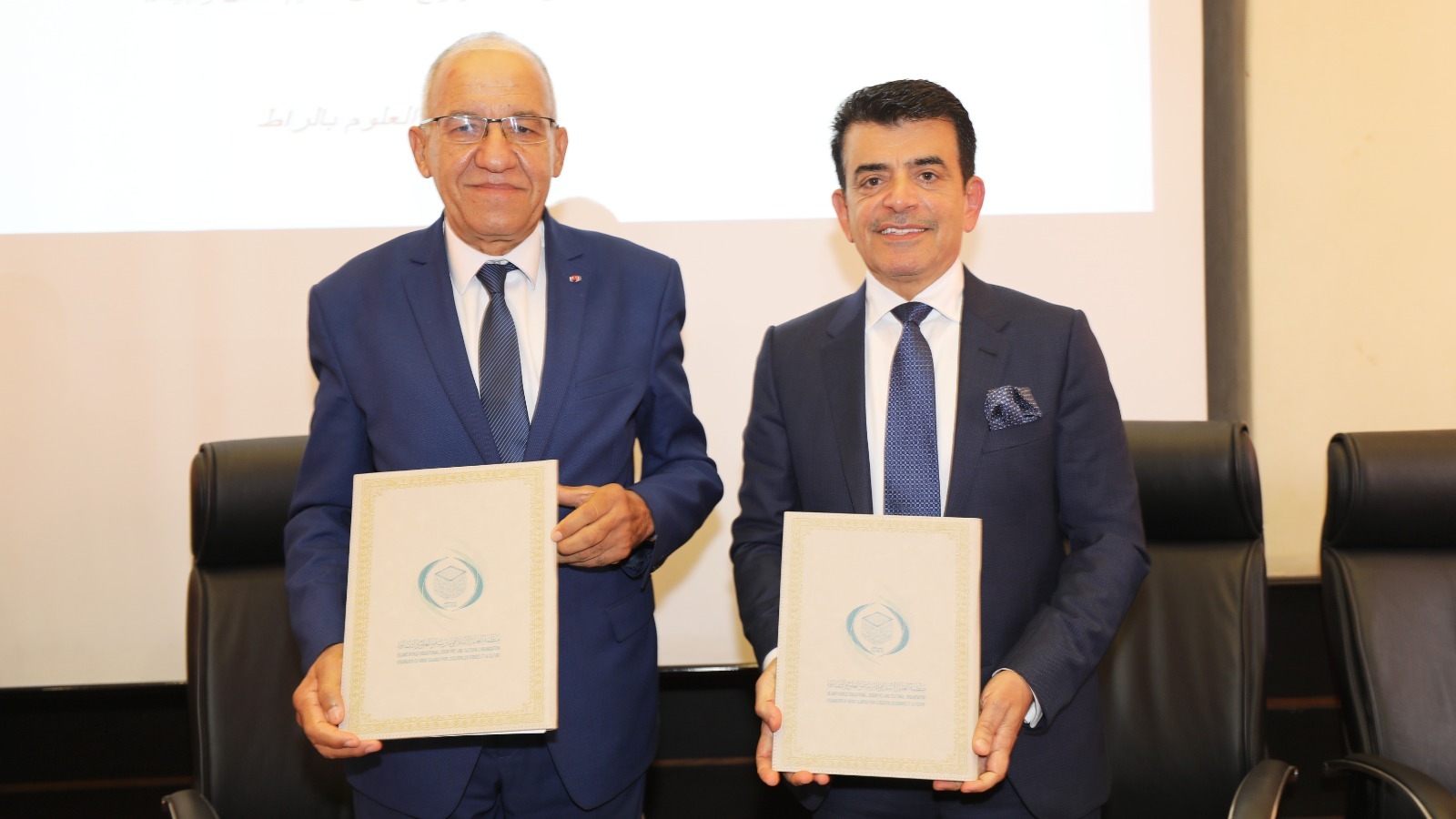 23 February 2023
The Islamic World Educational, Scientific and Cultural Organization (ICESCO) and Mohammed V University, in Rabat, Kingdom of Morocco, signed an agreement to establish ICESCO Chair Open Education at the university "for fair access to inclusive and quality education," aimed at developing open education and related fields, promoting open educational resources and practices, and sharing experiences among researchers, academics, university students and higher education institutions in the Kingdom of Morocco and the ICESCO Member States.
Dr. Salim M. AlMalik, ICESCO Director-General, and Dr. Farid El Bacha, President of Mohammed V University, signed the agreement, on Wednesday (22 February 2023), at the University's headquarters, in the presence of several heads of sectors and departments of ICESCO and the University officials.
In his address during the signing ceremony, Dr. AlMalik reaffirmed that ICESCO's new vision seeks to keep up with new developments by establishing and supporting scientific university chairs specialized in the fields of education, culture, science and artificial intelligence, pointing to the need for universities to keep up with the labor market developments and the professions of tomorrow.
For his part, Dr. El Bacha commended the agreement, stressing that Mohammed V University is aware of the importance of open resources in the academic field to disseminate and develop knowledge through modern technologies for quality and inclusive education.
In his speech, Dr. Mohamed Tahiri, Director of Higher Education and Pedagogical Development at the Ministry of Higher Education, Scientific Research and Innovation in the Kingdom of Morocco, praised the initiative to establish the ICESCO Chair for Open Education, pointing out that the initiative is in line with the Ministry's strategy to enhance digital resources in higher education institutions and encourage them to utilize open resources, to develop the capabilities of students and researchers.
Dr. Mahmoud Abdsamih, Head of Programs and Activities of UNESCO, ICESCO and ALECSO at the Moroccan National Commission for Education, Science and Culture, stressed in a speech, delivered on behalf of the Secretary-General of the Moroccan National Commission, that open educational resources and information technologies has become a prerequisite for the development of society through the transfer of human knowledge and preparing the next generation of leaders and innovators, noting that ICESCO Open Education Chair comes within the framework of this global progress.
The agreement indicates that the chair aims to raise professors' awareness of the essential role of open education by providing relevant knowledge and expertise, supporting the participation of researchers and academics in open education practices, disseminating these innovative practices among Ph.D. students, and urging professors to positively develop their educational practices.