ICESCO and IOM Sign Agreement to Implement Joint Programmes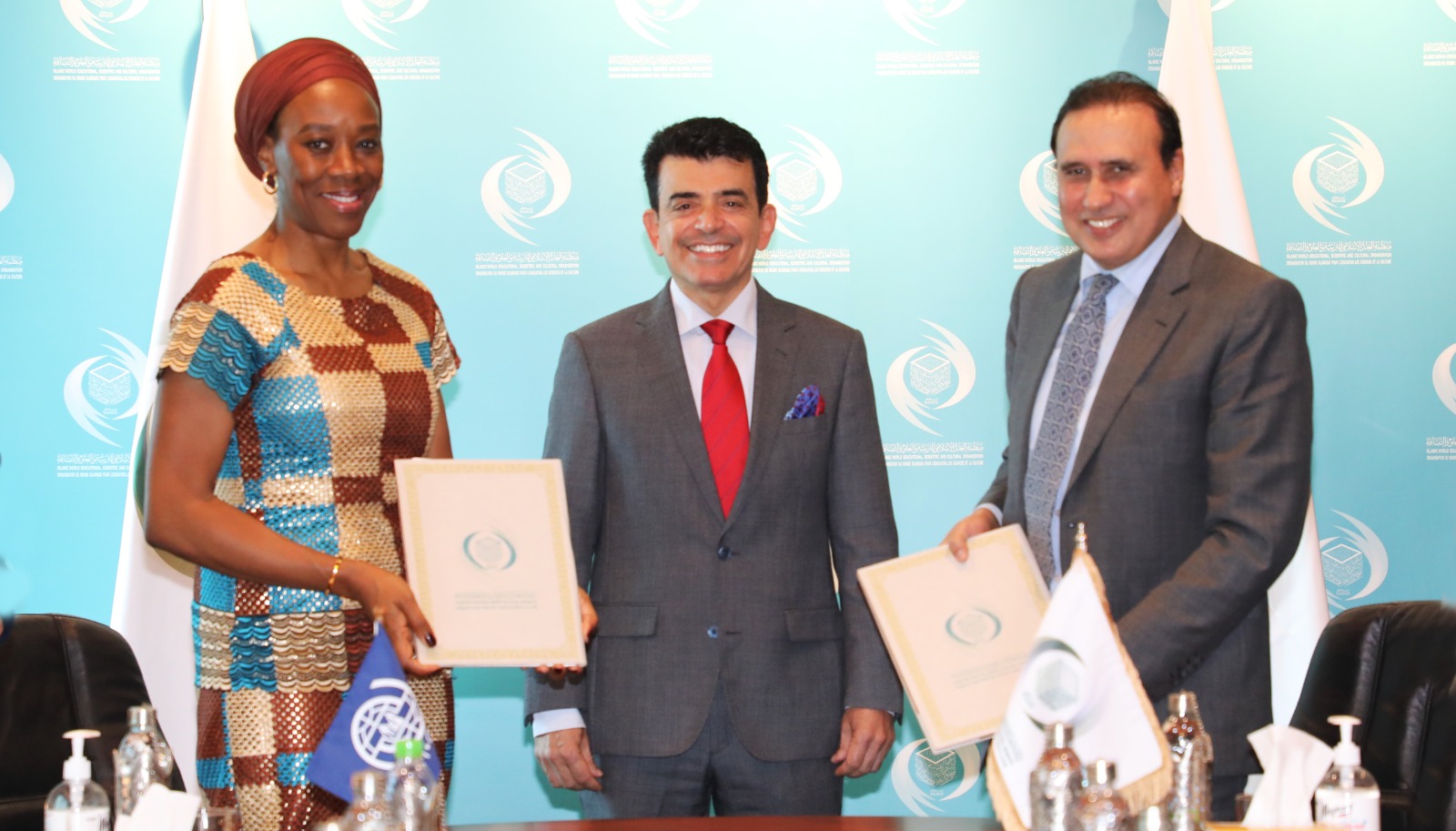 17 February 2023
The Islamic World Educational, Scientific and Cultural Organization (ICESCO) and the International Organization for Migration (IOM) signed an agreement for cooperation and partnership to implement several programmes, projects and activities to protect and build the capacities of migrants, guarantee their rights in education, science and culture, and contribute to addressing the challenges that hinder the governance of migration.
The parties signed the agreement on Thursday, February 16, 2023, at ICESCO Headquarters in Rabat, in the presence of Dr. Salim M. AlMalik, ICESCO Director General, Dr. Abdelilah Benarafa, ICESCO Deputy Director General, and Ms. Oguchi Daniels, IOM Deputy Director General of Operations, along with ICESCO Heads of Sectors, Directors of Departments and Experts and a delegation from IOM.
In his address during the signing, Dr. AlMalik expressed his happiness with this agreement and cooperation between ICESCO and IOM, which protects the human rights of vulnerable groups who have been forced to leave their countries, stressing that this goes hand in hand with ICESCO's vision and strategic orientations, and hoping that this agreement will be a starting point for further development of partnership and cooperation between the two Organizations.
For her part, Ms. Oguchi Daniels reaffirmed that ICESCO and IOM share the same humanitarian goal, which is to promote the rights of migrants, noting that the signing of the agreement enhances the role of the two Organizations in improving the conditions of legal and illegal migrants, and providing the necessary protection for them.
The terms of the cooperation agreement included strengthening the partnership between ICESCO and IOM in areas related to migrants, such as health, education, culture, science, innovation, environment and climate change, integrating migrants, building their capacities and qualifying them, enhancing their opportunities in the labor market and promoting awareness of international charters for safe and legal migration to achieve the goals of sustainable development.
The agreement also stipulates that representatives of the two Organizations will convene and attend meetings and conferences related to areas of common interest, exchange of information, experiences and documents related to their initiatives and programmes, support and implement joint activities and programmes, and grant observer status to IOM to attend ICESCO Executive Council meetings.