ICESCO and the Sultanate of Oman Explore Cooperation Prospects in the Fields of Education, Science and Culture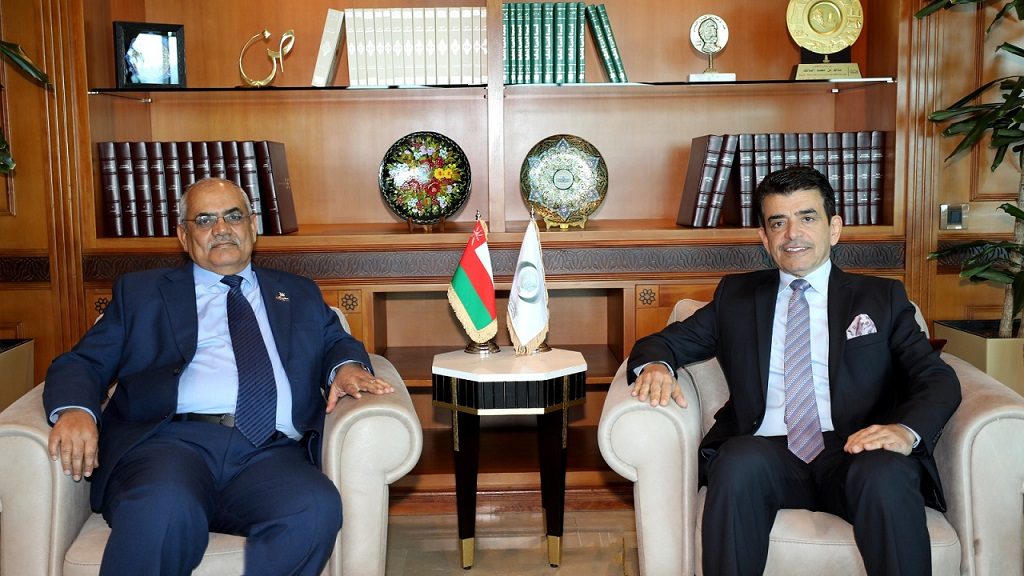 8 February 2023
Dr. Salim M. AlMalik, Director-General (DG) of the Islamic World Educational, Scientific and Cultural Organization (ICESCO), received Dr. Said Mohammed Albarami, Ambassador of the Sultanate of Oman to the Kingdom of Morocco, and discussed partnership developments between ICESCO and the Sultanate of Oman in the fields of education, science and culture, and ways to strengthen cooperation relations.
During the meeting, held on Tuesday (February 7, 2023), at ICESCO Headquarters, in Rabat, Dr. AlMalik reaffirmed the Organization's keenness to enhance cooperation relations with several Omani institutions and agencies, in coordination with the Omani National Commission for Education, Culture and Science.
The meeting considered the various aspects of cooperation between ICESCO and the Sultanate of Oman in educational, heritage and scientific projects, the areas of promoting dialogue and the values of tolerance, and the historical and current role of the Sultanate of Oman in promoting dialogue and strengthening cultural relations between peoples.
The meeting saw the presence of Dr. Salim Al-Habsi, Programs Manager at ICESCO General Secretariat of National Commissions and Conferences, and Mr. Mohammed Al-Ma'amari, Counselor at the Omani Embassy, in Rabat.
After the meeting, ICESCO Director-General took the Omani Ambassador on a tour of the International Exhibition and Museum of the Prophet's Seerah and Islamic Civilization, which is currently organized at ICESCO Headquarters, in partnership with the Muslim World League and the Mohammadia League of Scholars. During the tour, explanations were given to the delegation about the various sections highlighting the Prophet's Seerah through modern display technologies.
At the end of the tour, Ambassador Albarami commended the exhibition, which constitutes a virtual visit to the time of the Prophet (PBUH). He also praised ICESCO's leading role in showcasing the civilizational aspects of the Prophet's Seerah.