43rd Session of ICESCO Executive Council kicks off at its headquarters in Rabat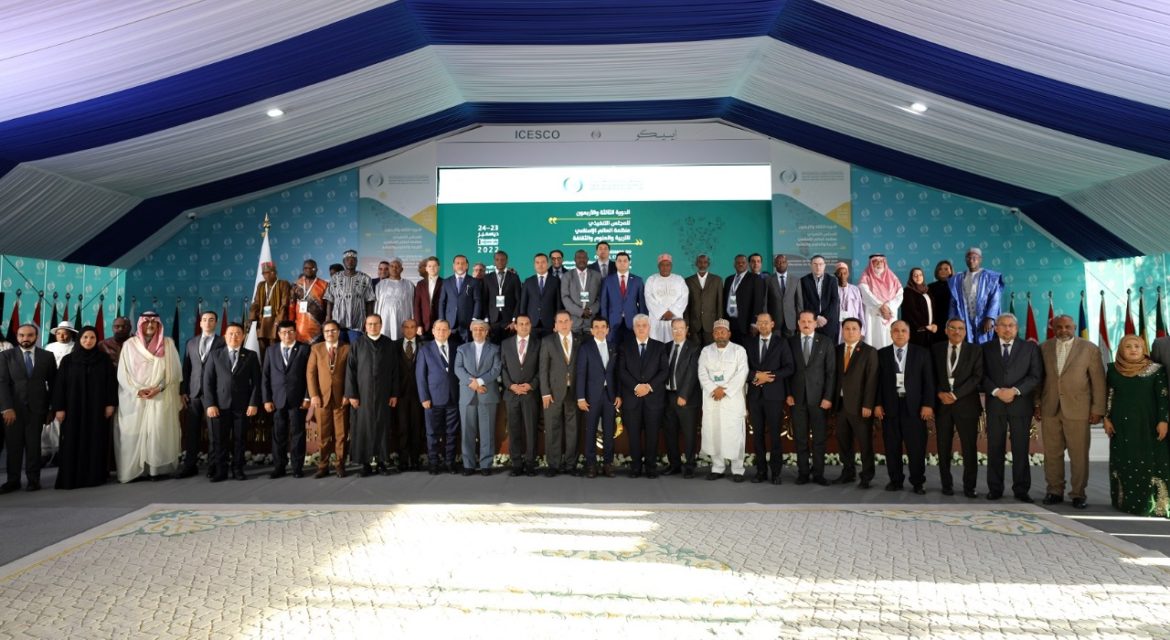 23 December 2022
On Friday, December 23, 2022, the 43rd Session of the Executive Council of the Islamic World Educational, Scientific and Cultural Organization (ICESCO) kicked off at the Organization's Headquarters, in Rabat, with the attendance of 46 out of the 53 Member States of the Organization.
The opening session began with the recitation of verses from the Holy Quran, followed by the address of Dr. Salim M. AlMalik, ICESCO Director-General (DG), wherein he reaffirmed that the Organization continues its innovative and modernizing approach to have an integrated practical orientation and become among the most prestigious international institutions, noting that ICESCO won many distinguished international awards and certificates during 2022.
He also reviewed the salient achievements of ICESCO, including the organization of conferences, seminars and workshops, the launch of initiatives and programs that give priority to women and youth, technology, space sciences and heritage safeguarding, and the establishment of several academic chairs in prestigious universities, adding that ICESCO currently hosts the International Museum of the Prophet's Biography and Islamic Civilization as a new civilizational contribution.
Moreover, ICESCO DG stated that the Organization promotes the principles of tolerance, anticipates the future, showcases arts and literature and celebrates the talents and skills of young people based on governance and transparency.
In his address, Dr. Mohamed Ayman Ashour, Minister of Higher Education and Scientific Research of Egypt, Chairman of ICESCO's General Conference, commended the constructive cooperation with the Organization in the fields of education, science and culture, within the framework of coordination with Member States and National Commissions, to define new trends for its strategies and programs, and respond to future requirements.
He also commended ICESCO's efforts in shaping the future, preserving cultural heritage, teaching Arabic for non-Arabic speakers, and building national capacities in the Member States by supporting education, qualifying and training youth and women, and supporting research and innovation.
For his part, Dr. Dawas Tayseer Dawas, Chairman of ICESCO Executive Council and Secretary-General of the Palestinian National Commission for Education, Culture and Science, reaffirmed that the Organization should be applauded for its endeavors to spread outstanding educational and cultural practices, and meet the challenges and needs of Member States through various activities and programs.
Besides, he explained the importance of convening the Executive Council for supporting ICESCO's efforts to fulfill its mission in all fields, calling for continued development within the framework of a multilateral approach along with the orientations of the Organization's General Directorate.
At the end of the opening session, ICESCO DG announced the official accession of the Lebanese Republic to the Organization after fulfilling the legal procedures, indicating that he had received an official letter on this matter from Mr. Najib Mikati, Prime Minister of Lebanon.
Afterward, the participants in the 43rd session of ICESCO Executive Council took a group photo. The working sessions will include presentations on the performance reports of sectors, departments, and specialized centers of ICESCO.