The President of Republic of Iraq Receives ICESCO's Director-General at Baghdad Palace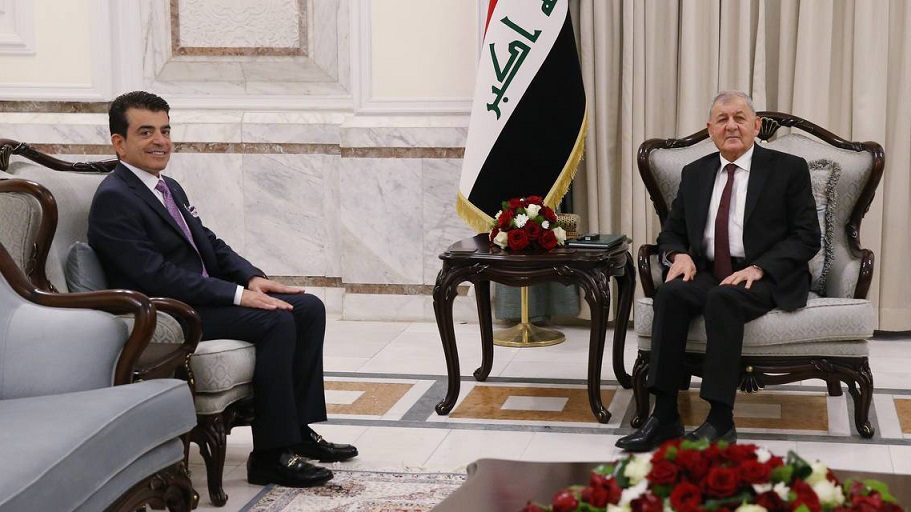 5 December 2022
His Excellency the President of the Republic of Iraq, Dr. Abdul Latif Jamal Rashid, received Dr. Salim M. AlMalik, Director-General of the Islamic World Educational, Scientific and Cultural Organization (ICESCO), on December 4, 2022, at the Presidential Palace in the capital, Baghdad, as part of ICESCO's Director-General official visit to Iraq.
Dr. AlMalik started the meeting by expressing his gratitude and appreciation to His Excellency the Iraqi President and the government and people of Iraq for their warm hospitality and invitation to attend the 6th edition of the Ancient Civilizations Forum, hosted by Baghdad under the auspices of the Iraqi Ministry of Foreign Affairs, stressing ICESCO's eagerness to develop distinguished relations with Iraq in fields of education, science and culture.
He reviewed the main components of ICESCO's new vision and strategic orientations, as well as the priority the Organization accords, in its ambitious programmes and projects, to build the capacities of youth and women and training them in leadership for peace and security, consolidating the values of coexistence and civilizational dialogue, supporting and training youth in the fields of technology, innovation and artificial intelligence, encouraging Member States to invest in Space science, valorizing and preserving the heritage of the countries of the Islamic world and inscribing historical sites and cultural elements on ICESCO's Tangible and Intangible Heritage Lists.
ICESCO's Director-General briefed the President of the Republic of Iraq on the most recent publications of the organization, and the key programmes and projects that it is currently implementing for the benefit of its Member States including Iraq.
For his part, the President of the Republic of Iraq appreciated ICESCO's efforts, stressing his keenness to sustain cooperation between the Iraqi competent authorities and the Organization in its fields of competence, especially in training Iraqi officials. The Iraqi president requested to have copies of all ICESCO's publications.
At the close of the meeting, ICESCO Director-General presented the Organization's shield to His Excellency the President of the Republic of Iraq.