ICESCO awards prizes to winners in its youth training program in technology and innovation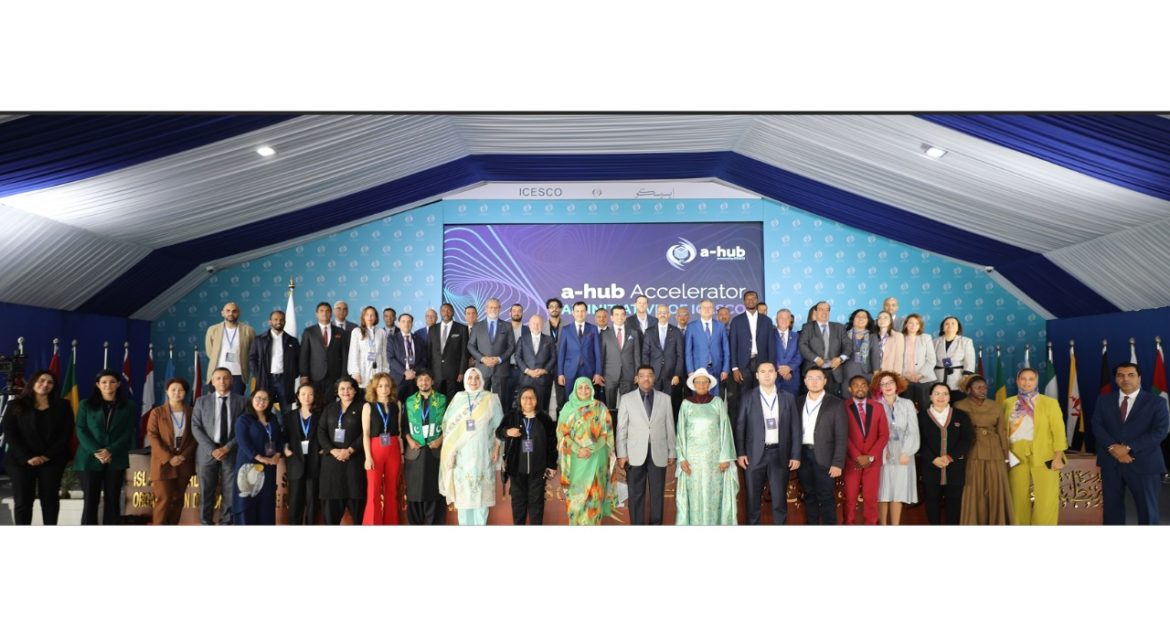 29 November 2022
On Monday (November 28, 2022), the Headquarters of the Islamic World Educational, Scientific and Cultural Organization (ICESCO), in Rabat, witnessed a major international celebration marking the conclusion of the ICESCO Youth Training Programme on the Development of Small Technology and Innovation Businesses, with the participation of the 18 winning teams in the Programme's competitions, which were held in six countries. The winners presented their projects before the jury, which selected 3 teams to receive funding for their projects.
The celebration witnessed high-level participation, including international officials, ministers, donor institutions and experts in the field of technology and scientific research.
It saw several discussion sessions on the importance of developing startups and qualifying women through entrepreneurship in the era of technology and digitization.
The celebration began with the recitation of verses from the Holy Quran, followed by a summary of the previous stages of the programme presented by Dr. Raheel Qamar, Head of ICESCO Science and Technology Sector.
In the opening session, Dr. Salim M. AlMalik, ICESCO Director-General, underscored that the Organization seeks to promote creativity through its programmes, activities and forward-looking vision aimed at helping young entrepreneurs achieve economic development in their countries.
He also congratulated the participants in the programme, which was launched in 2021, aiming at promoting and sustaining start-ups in the Islamic world, launching more than 150 startups by the end of 2025, training more than 500 entrepreneurs, and developing about 60 creative project ideas.
In his address, Dr. Younes Sekkouri, Moroccan Minister of Economic Inclusion, Small Business, Employment and Skills, stressed the importance of innovation for countries' development and positive change, and the need to provide a suitable environment for young people to encourage creativity and consolidate innovation.
Afterward, in the high-level session on the importance of startups and future inclusive technology, the floor was given to Dr. AlMalik, Dr. Sekkouri, Dr. Mohamed Ould Amar, Director-General of the Arab League Educational, Cultural and Scientific Organization (ALECSO), and Dr. Mokhtar Ahmed, Chairman of the Higher Education in the Republic of Pakistan. Mr. Baybars Altuntas, President of the World Business Angels Investment Forum, moderated this session.
The two following sessions discussed 'qualifying women through entrepreneurship in the digital era: trends and challenges,' and 'Start-ups… success stories and secrets,' respectively.
After that, the 18 winning teams in competitions, held in Azerbaijan, Kazakhstan, Uzbekistan, Kyrgyzstan, Pakistan and Nigeria, presented their projects to the jury, which consisted of experts and specialists in the fields of entrepreneurship and technology, to announce and award prizes to the three winners.