On Occasion of World Children's Day… Children Try to Be in Charge at ICESCO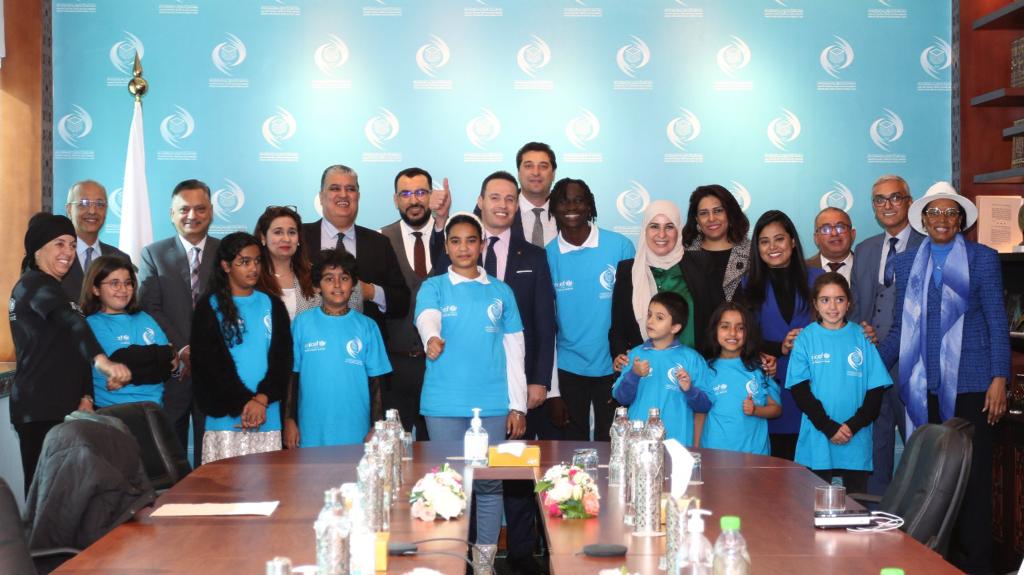 22 November 2022
On Monday, November 21, 2022, the Headquarters of the Islamic World Educational, Scientific and Cultural Organization (ICESCO) in Rabat received a delegation of children from several schools, as part of ICESCO's celebration of World Children's Day, in partnership with the United Nations Children's Fund (UNICEF) office in Morocco, to familiarize children with the nature of work in ICESCO's Sectors, Departments and Centers and allow them to express their opinions, by allowing them the opportunity to go through a simulation experience of some of the tasks of the Organization's officials.
During the visit, several ICESCO Heads of Sectors, Directors of Departments and Experts held a meeting with the children, in the presence of Ms. Nawal Hammadi, representative of the UNICEF office in Morocco. It was an opportunity for the children to make their voices heard and call for the need to defend their rights and promote the principle of gender equality.
Two children from the delegation were invited to go through a simulation experience, each of them assumed the duties of ICESCO Director-General to learn about the decisions to make in this capacity and get acquainted closely with the management methods and mechanisms, and how to conduct daily work, while the rest of the children were invited to experiment other positions and responsibilities within the Organization.
The children were taken on a tour to ICESCO's various facilities, namely the Leadership Incubator, which is an integrated platform to support the youth of the Islamic world in areas of future leadership skills required in the fields of education, science and culture.
The children also visited the pavilions of the Exhibition and Museum on the Prophet's Biography and Islamic Civilization, at ICESCO's headquarters, which is the fruit of a strategic partnership between the Organization, the Muslim World League, and the Mohammadia League of Scholars in the Kingdom of Morocco, which aimed at promoting the Prophet's biography and lofty virtues, the Islamic civilization, and the noble purposes of the message of Islam.