Strengthening Cooperation between ICESCO and Egyptian Ministry of Communications in the field of Technology and Enriching Arabic Digital Content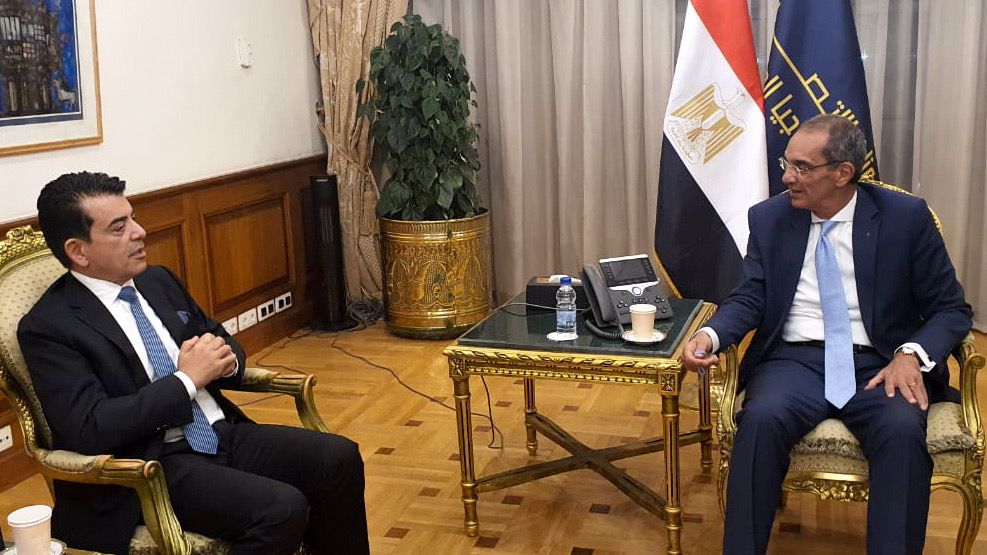 31 August 2022
Dr. Salim M. AlMalik, Director-General (DG) of the Islamic World Educational, Scientific and Cultural Organization (ICESCO), and Dr. Amr Talaat, Minister of Communications and Information Technology of the Arab Republic of Egypt, explored ways to develop cooperation between ICESCO and the Ministry in the field of promoting Arabic digital content and supporting youth in innovation and entrepreneurship with modern technology.
During the meeting, which was held on Tuesday, August 30, 2022, at the headquarters of the Ministry of Communications and Information Technology in the Smart Village, 6th October City, Dr. AlMalik reviewed the key part of ICESCO's strategic orientations and its new vision, which encourages the countries of the Islamic world to invest in modern technology and artificial intelligence to develop the fields of education, science and culture, noting that ICESCO implements several pioneering programmes and projects in this field.
He pointed out that the Organization has witnessed a process of modernization and development in its various sectors and departments and it has become dependent on digitization and technology, and that ICESCO adopts an open-door policy to all, and cooperates with international organizations and bodies, civil society institutions and universities, to contribute to the development of the fields of education, science and culture. It has also signed several agreements with major institutions in the fields of artificial intelligence and space science.
Dr. AlMalik added that ICESCO accords high priority to supporting youth and building their capacities, especially in the fields of technology and innovation, and it holds training sessions for their benefit to acquire the skills for future professions.
He noted that ICESCO is ready to cooperate with the Ministry of Communications and Information Technology in several programs, after the success of the cooperation in the Digital Hackathon initiative in Egypt, which provided an opportunity for digital content makers to create Arab educational content in the field of technology through holding workshops and training sessions.
For his part, Dr. Amr Talaat commended ICESCO's role in its fields of competence and its modern and upgraded vision, noting that the ministry is working to include technology in the field of heritage and its desire to digitize it.
He expressed his eagerness to cooperate with ICESCO in areas of common interest, especially sponsoring innovators, supporting entrepreneurs in the field of information technology and enhancing the presence of the Arabic language in digital content.