Major Ceremony in Cameroonian Capital to Mark Launch of Celebration of Yaoundé, Culture Capital in Islamic World for 2022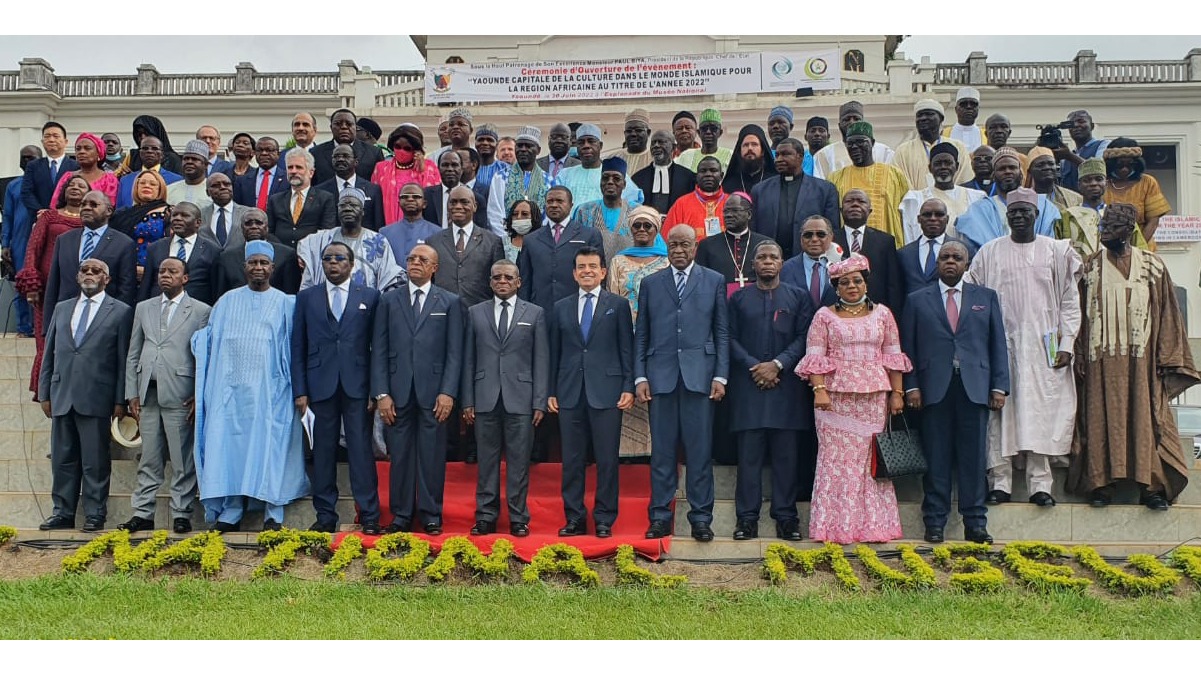 1 July 2022
The Celebration of Yaoundé, Culture Capital in the Islamic World for 2022, officially kicked off in a major ceremony, held under the patronage of His Excellency Mr. Paul Biya, President of Cameroon, who presided over the ceremony, on Thursday 30 June 2022, at the National Museum in Yaoundé. The ceremony also brought together Mr. Joseph Dion Ngoti, Prime Minister of Cameroon, Dr. Salim M. AlMalik, Director-General (DG) of ICESCO, Dr. Mohamed Zine El Abidine, Head of ICESCO Culture and Communication Sector, senior Cameroonian officials and religious leaders, public figures and accredited ambassadors as well as thousands of citizens.

The launch of the year-round celebration, in coordination between the Islamic World Educational, Scientific and Cultural Organization (ICESCO) and the Ministry of Arts and Culture of the Republic of Cameroon, falls within the framework of the new edition of ICESCO Programme of Cultural Capitals in the Islamic World, which aims at promoting heritage and consolidating the values of peace, coexistence and civilized dialogue.
In his address, Dr. AlMalik expressed his thanks to the President of the Republic of Cameroon for his generous sponsorship of the celebration and his continuous support for cultural development, commending the role of Yaoundé in the production of oral literature in the African continent, contemporary arts and music.

He also commended the linguistic, ethnic, religious and cultural diversity of Yaoundé, the City of the Seven Hills, pointing out that it is a model of religious moderation, tolerance and spiritual and moral values. "The celebration of Yaoundé will contribute to achieving sustainable development in the fields of culture and scientific research and building the capacities of women and youth," added ICESCO DG.
Dr. AlMalik stressed the Organization's willingness to cooperate with the relevant Cameroonian authorities to ensure the success of the celebration, which will contribute to the promotion of tourism in the city, highlight its heritage and natural sites, enhance its regional and international reputation, attract investments in the cultural field and promote coexistence and tolerance.
"ICESCO will assist the Cameroonian authorities to inscribe heritage sites in the Al-Halouf region, Goto Golfi Tower and Bidzar archaeological site on the Islamic World Heritage List. It will also hold workshops on the inscription process of cultural elements on the heritage lists," underlined Dr. AlMalik.
Moreover, he pointed out that the ICESCO Chair on Cultural Diversity, Peace and International Cooperation at the Institute of International Relations in Cameroon will be strengthened to develop scientific research and hold an international conference on cultural heritage and local development in Yaoundé in addition to several activities in coordination with the Cameroonian National Commission.
At the close of his address, ICESCO DG lauded the achievements of a number of Cameroonian figures in the fields of politics, literature, culture, arts and sports, stressing that they constitute a source of inspiration for new generations in Africa and all continents.