Reviewing latest arrangements for hosting the International Exhibition and Museum of the Prophet's Seerah at ICESCO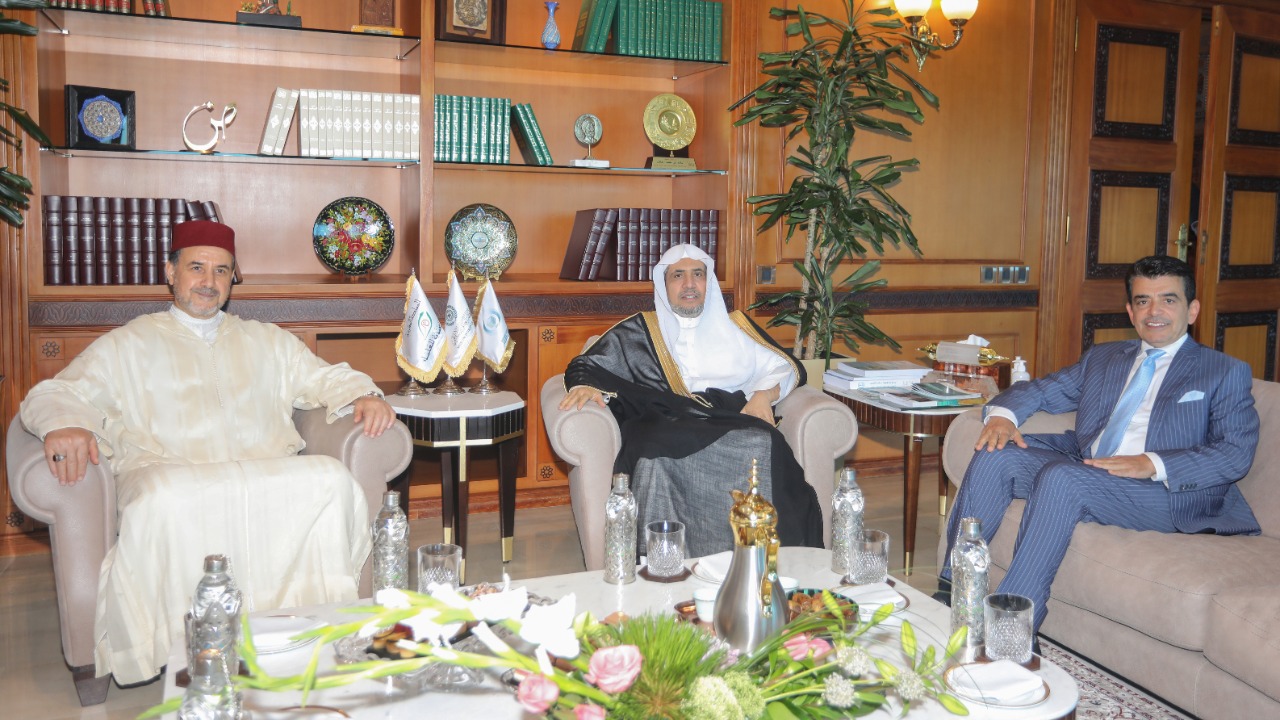 31 May 2022
A press conference to be held tomorrow to announce opening day of the Exhibition and Museum
The Islamic World Educational, Scientific and Cultural Organization (ICESCO), the Muslim World League and the Mohammadia League of Scholars in the Kingdom of Morocco held a meeting to review the latest arrangements for hosting the International Exhibition and Museum of the Prophet's Seerah at ICESCO Headquarters. This major project will be organized under the high patronage of His Majesty King Mohammed VI of Morocco, may Allah assist him, as part of the Celebration of Rabat as the Culture Capital in the Islamic World for 2022.
The meeting, held yesterday May 30, 2022, at ICESCO Headquarters, brought together Dr. Salim M. AlMalik, ICESCO Director-Genera (DG); Sheikh Dr. Muhammed bin Abdulkarim Al-Issa, Secretary-General of the Muslim World League; and Dr. Ahmed Abbadi, Secretary-General of the Mohammadia League of Scholars.
At the beginning of the meeting, the parties expressed their gratefulness to His Majesty, King Mohammed VI, may Allah assist him, for his high patronage and support for hosting this major project and facilitating related measures and procedures.
In addition, the officials took stock of the setups and the ongoing preparations to host the Exhibition at ICESCO and agreed on the organizational procedures for hosting this major civilizational project.
The parties agreed to hold a press conference at ICESCO tomorrow, Wednesday, June 1, 2022, where Dr. AlMalik, Dr. Al-Issa and Dr. Abbadi will address the details of the Exhibition and the Museum and announce its opening day to visitors.
The International Exhibition and Museum of Prophet's Seerah, which is based in Al-Madinah Al-Munawwarah, receives the special attention and high patronage of the Kingdom of Saudi Arabia, under the wise leadership of the Custodian of the Two Holy Mosques, King Salman bin Abdulaziz, may Allah preserve him, and the Crown Prince, HRH Prince Mohamed bin Salman, may Allah preserve him. The Exhibition seeks to highlight the message of Islam which promotes justice, peace, mercy, tolerance, coexistence and moderation, based on the Holy Quran, the Noble Sunnah and Islamic history. The Exhibition employs advanced technology to give visitors a real-life experience of the Seerah and historical events.