Islamic World Cultures Meet in ICESCO to Celebrate World Day for Cultural Diversity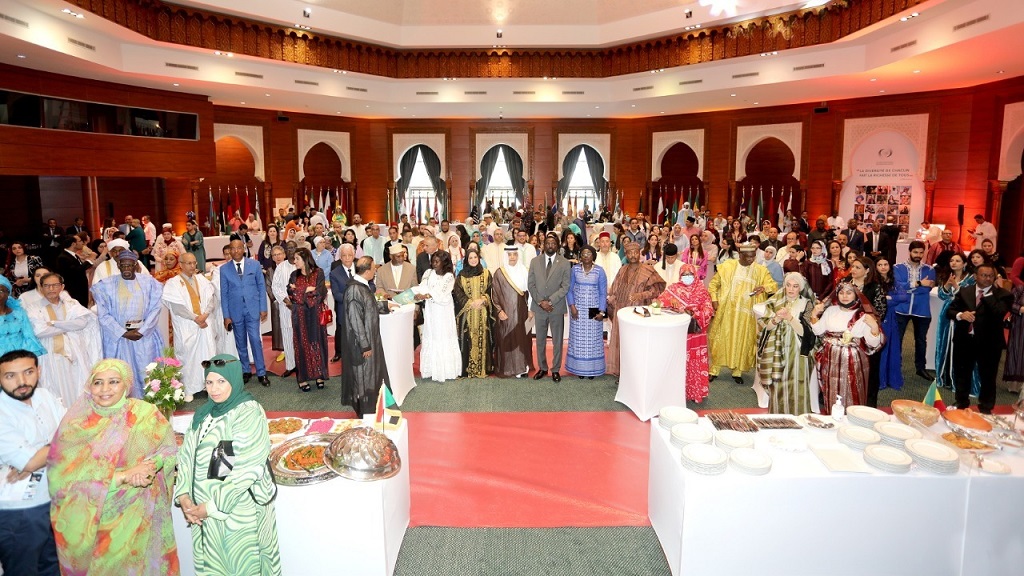 17 May 2022
Traditional, colorful costumes with unique designs, delicious dishes that convey the authenticity of their respective country's cuisine, and traditional music and arts from different countries, were all present in the international cultural ceremony, organized by the Islamic World Educational, Scientific and Cultural Organization (ICESCO), on Monday, May 16, 2022, at its headquarters, in observance of the World Day for Cultural Diversity for Dialogue and Development, celebrated on May 21 every year.
The ceremony was held under the theme "Around the World in 50 Dishes" and saw the participation of 20 Member States through their embassies accredited to the Kingdom of Morocco. It aimed at highlighting the abundant diversity of cultures in the countries of the Islamic world and promoting their distinctive cuisine, clothing, music and traditional arts. The ceremony also sought to emphasize the importance of cultural diversity in building prosperous societies and implementing ICESCO's vision which endeavors to anchor the values of dialogue, tolerance and coexistence, and foster mutual understanding among cultures for a cohesive, open world.
Dr. Salim M. AlMalik, ICESCO Director-General (DG), and Dr. Mamadou Tangara, Minister of Foreign Affairs of the Republic of The Gambia, inaugurated the ceremony, which saw the attendance of ambassadors of the participating countries to the Kingdom of Morocco and their wives, and all ICESCO officials and staff members of various nationalities.
In his opening remarks, Dr. AlMalik hailed the splendid encounter of cultures at the ceremony, which reflects cultural harmony, human unity, and tolerance, and represents a crossroad between our past and present.
He pointed out that in the same way that our natures differ, our choices also vary according to our environments, which generates diverse perspectives and ultimately leads to rich creativity, calling for the promotion of the concept of populating Earth that cannot be fulfilled without forging cordial relationships based on synergy and cooperation following the principle of moderation.
At the close of his address, Dr. AlMalik emphasized that ICESCO is a culturally diverse Organization, which qualifies it for guiding the Islamic world's path towards creativity.
For his part, Dr. Mamadou Tangara commended ICESCO's role in preserving the rich diversity of cultures, heritage and civilizations in the Islamic world, stressing the importance of these efforts in promoting peace, security and social cohesion. He also emphasized the need to develop traditional industries as a key lever for economic, social and cultural development.
During the ceremony, participants exchanged knowledge of their countries' traditional clothing and history, tasted the traditional dishes they brought and discussed their ingredients and preparation method, before taking a group photo.