ICESCO Director-General Receives Vietnamese Ambassador in Rabat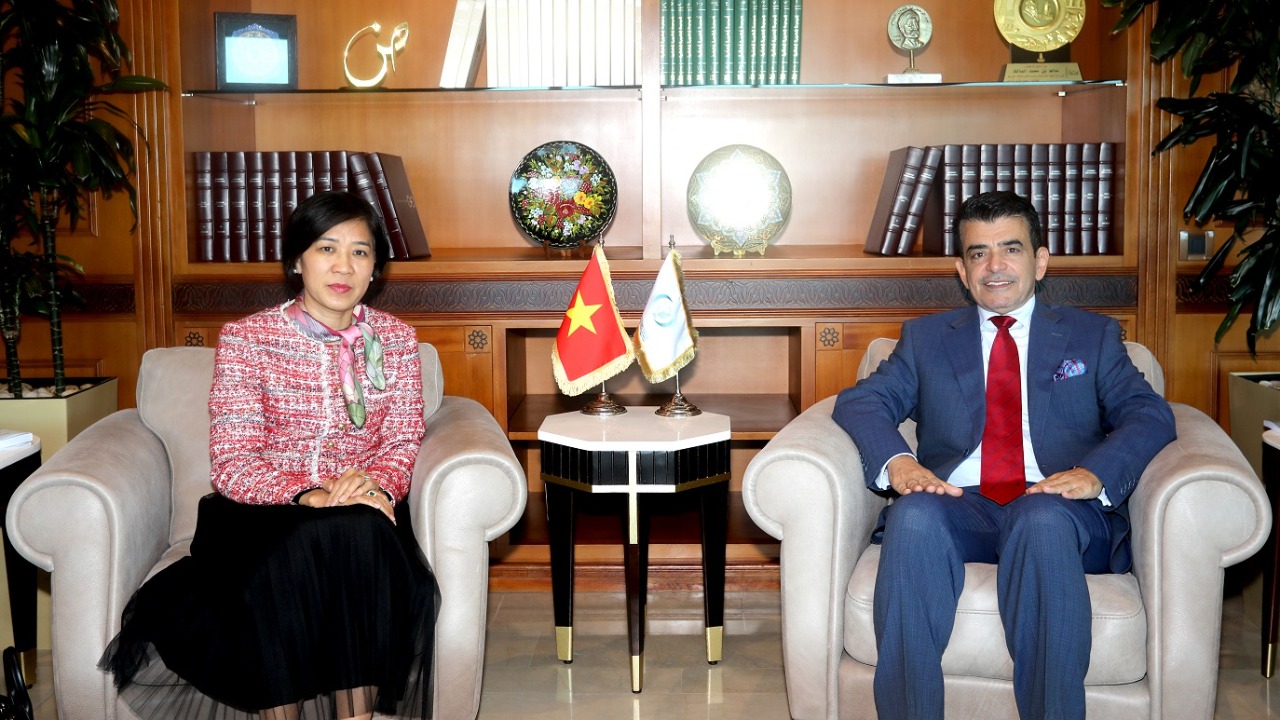 27 April 2022
Dr. Salim M. AlMalik, Director-General (DG) of the Islamic World Educational, Scientific and Cultural Organization (ICESCO), received Ms. Dang Thi Thu Ha, Ambassador of Vietnam to the Kingdom of Morocco, and together they discussed cooperation prospects between the Organization and the Republic, particularly in the field of Arabic language teaching.
During the meeting, held on Tuesday, April 26, 2022, at ICESCO Headquarters in Rabat, Dr. AlMalik reviewed the main thrusts of ICESCO's vision and its strategic orientations. He also reviewed the major programmes and activities that the Organization is implementing in cooperation with the competent authorities in the Member States, notably in relation to building the capacities of youth and women, anchoring peace and civilizational dialogue, teaching Arabic to non-Arabic speakers, encouraging investment in space sciences, inscribing and preserving cultural heritage, and contribute to ensuring quality education for all.
ICESCO DG reaffirmed the Organization's openness to all to establish partnerships and build cooperation that will benefit its Member States and Muslim communities around the world. He added that ICESCO enables non-Member States to join the Organization as observers for further cooperation with the Islamic world in the fields of education, science and culture, noting that various countries will soon join the Organization upon fulfillment of ICESCO's accession requirements.
For her part, the Vietnamese Ambassador commended ICESCO's roles in its areas of competence, underscoring her country's keenness to build fruitful cooperation with the Organization, particularly in teaching the Arabic language. She indicated that a wide number of people are currently learning the Arabic language in Vietnam, notably at the University of Hanoi and another Vietnamese university in another city.
The meeting touched upon several cooperation proposals, namely training Arabic language teachers, the potential establishment of an ICESCO center for Arabic in Vietnam, concluding a cooperation agreement in this field, and organizing a cultural day or week in Rabat to promote the Vietnamese culture as part of the celebration of Rabat as Culture Capital in the Islamic World for 2022.