ICESCO Extends Nomination Deadline for its Young Professionals Programme 2022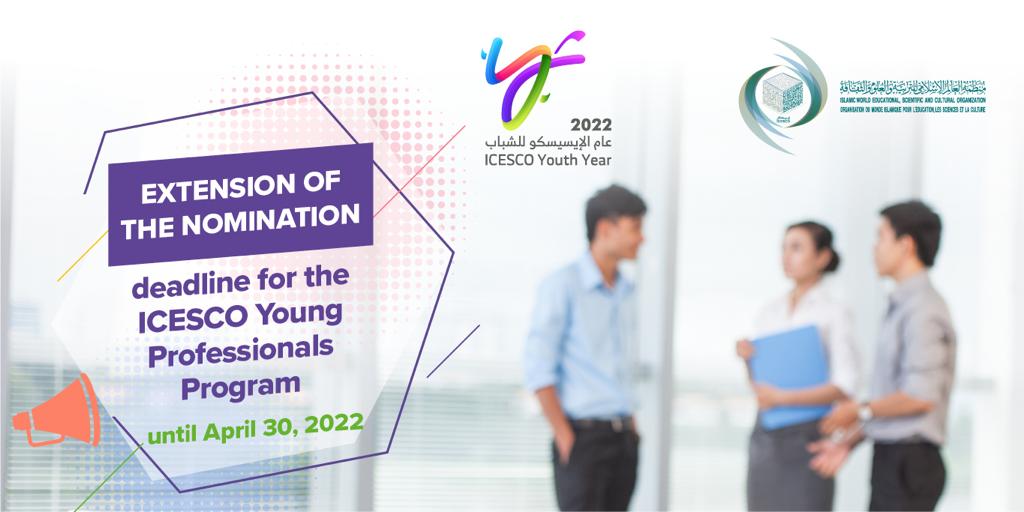 14 April 2022
The Islamic World Educational, Scientific and Cultural Organization (ICESCO) announces the extension of the nomination deadline for the first edition of the Young Professionals Programme until April 30, 2022.
This decision came in response to the phone calls and emails that young people from the Islamic world have sent the Programme Management, requesting more time to prepare the required documents and fulfill the Programme's conditions of participation. Given this strong turnout, ICESCO decided to extend the nomination period until the end of April instead of April 15.
ICESCO's Young Professionals Programme falls within the framework of the Organization's new vision and action strategy, which are based on adopting the visions of young people, building their capacities and developing their leadership and professional skills to contribute to building a generation characterized by the sense of responsibility and professionalism envisioning to modernize the fields of education, science and culture in Muslim countries.
The nominees desiring to participate in ICESCO Young Professionals Programme for 2022 must:
Hold the nationality of one of ICESCO Member States;
Be less than 35 years old at the date of the announcement of nomination;
Hold at least a BA degree, or its equivalent, in the fields of education, science and culture, and fields related to ICESCO's action.
Be proficient in at least one of the three working languages of ICESCO (Arabic, English and French).
To join the Programme, nominees must fill in and send the registration form to ICESCO before April 30, 2022, along with their CVs either in Arabic, English or French; copies of their academic diplomas (at least a BA degree); a copy of the ID card or passport; a copy of the birth certificate and a personal photo. Candidates will be invited to conduct remote written tests and interviews.
For more information on how to apply for the Programme as well as its conditions, benefits and privileges, and the registration form, please visit the link below: https://www.icesco.org/?p=29534
Those interested can also send their inquiries to the following e-mail: hr@icesco.org