Major celebration to pay tribute to young interns at ICESCO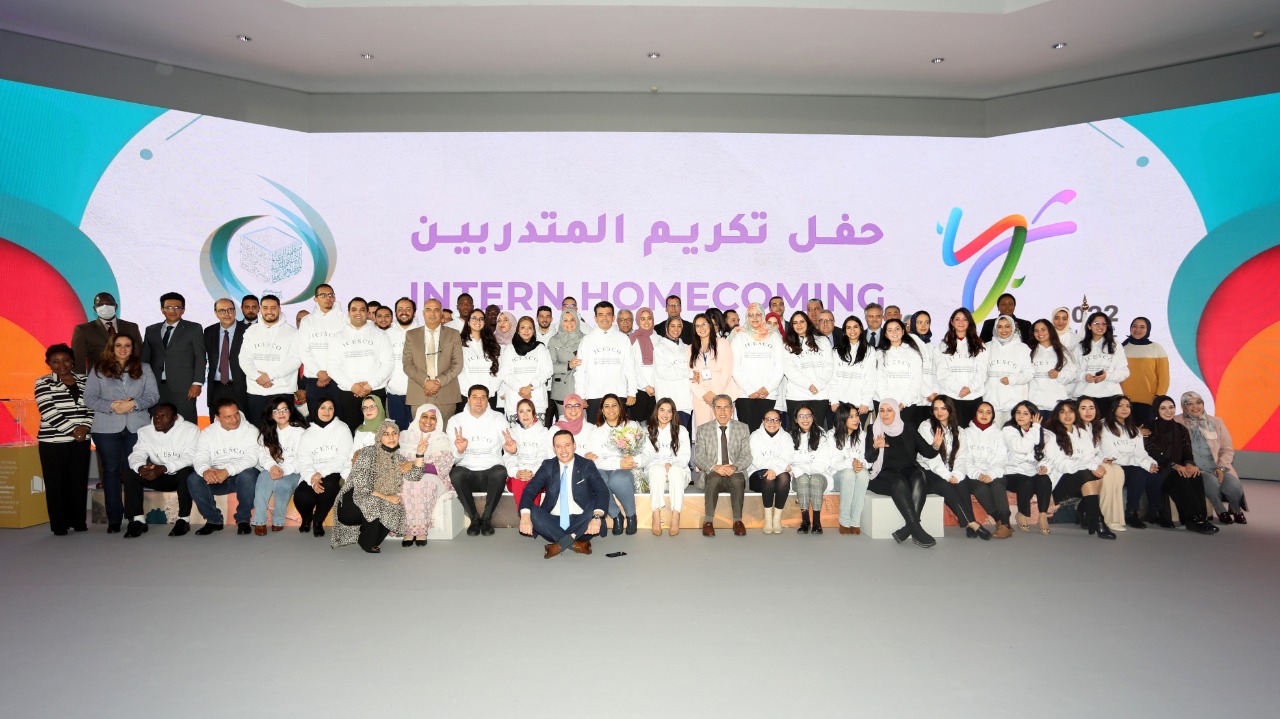 2 April 2022
The Islamic World Educational, Scientific and Cultural Organization (ICESCO) paid tribute to the young people who spend a period of professional training as interns in one of ICESCO's sectors, departments and centers. On this occasion, ICESCO organized a major celebration which saw the participation of a number of key figures in the Islamic world, who shared their successful experiences and gave valuable pieces of advice to the young people to help them stand out and succeed on their professional life.
The ceremony was held today, Friday, April 1st 2022, at ICESCO headquarters in Rabat, in recognition of the efforts and achievements of the young men and women who spent internship periods at ICESCO. The ceremony was also an opportunity to highlight ICESCO's Young Professionals Program which was launched on March 23rd, 2022.
In his address, Dr. Salim M. AlMalik, ICESCO Director-General, stated that interns exerted remarkable efforts in service of ICESCO and worked with dedication and integrity to contribute to the preparation of its activities and programs across the Organization's sectors, departments and centers.
Dr. AlMalik added that both nations and institutions prosper with the visions of their youth, given their renewal spirit and different perspectives likely to impact the world. "We are living in a rapidly changing world as a result of significant technological revolution, led by young people", the Director-General stated.
Likewise, the Director-General gave the young interns several pieces of advice, notably respecting the values of integrity, dedication, honesty, good manners and perfection. He also stressed the importance of having clear goals to strive to achieve, the ability to understand and accept other views and the need to be kind to parents.
Taking the floor next was Mr Nasreddine Nsibi, Tunisian Minister of Employment and Vocational Training, who stated that ICESCO's Young Professionals Program aims to lay down a practical strategy to build the future. For her part, Dr. Afnan Al Shuaiby, Executive Director of the Women Development Organization, talked about her experience as a young intern and the skills she learned in her early professional training days.
ICESCO officials also gave addresses at the ceremony, including Dr. Nidal Muhammad Abuzuhri, Head of ICESCO Administrative Affairs, who noted that professional training is one of ICESCO's main priorities as part of the Organization's new vision. As for Mr. Mohamed Hedi Shili, Head of ICESCO Legal Affairs, he gave a detailed presentation on ICESCO's Young Professionals Program and highlighted its goals.
Afterwards, a video was screened where interns talk about their internships at ICESCO. Another video was screened about ICESCO's journey to obtain the ISO certification (9001:2015) for quality management system whose files were prepared with the participation of interns.
The ceremony featured remarks by Mr. Samir Benmakhlouf, Former CEO of Microsoft Morocco, Ms. Instantly Benalluch, Moroccan social media influences, Mr. Mohammed Amine Zariat, Social Entrepreneur, and Mr. Amine Belghazi, Interpersonal Communication and Soft Skills Coach. The speakers talked about their personal experiences and gave advice to the young interns.