Conclusion of ICESCO Year of Women with Official Ceremony Chaired by Princess Lalla Meryem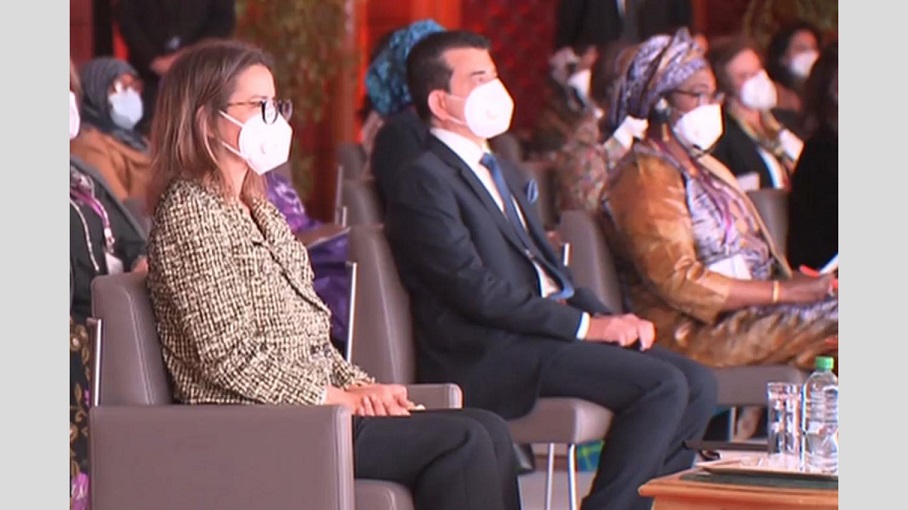 31 March 2022
The Islamic World Educational, Scientific and Cultural Organization (ICESCO) officially concluded its "ICESCO Year of Women 2021," launched last year under the theme "Women for the Future," under the high patronage of His Majesty King Mohammed VI of the Kingdom of Morocco.
Her Royal Highness Princess Lalla Meryem, Chairwoman of the National Union of Moroccan Women (UNFM), chaired the official ceremony, which took place on Wednesday, March 30, 2022, at ICESCO Headquarters in Rabat, with the presence of high-level officials and leading women figures in different fields from Morocco and the Islamic world.
After a recitation of verses from the Holy Quran, Dr. Salim M. AlMalik, ICESCO Director-General (DG), delivered an address in which he stated that it is a distinct pleasure to celebrate the conclusion of the ICESCO Year of Women 2021 under the high royal patronage of His Majesty King Mohammed VI, may Allah assist him, and with the gracious presence of H.R.H. Princess Lalla Meryem, who has always shown great interest in women issues.
ICESCO DG noted that this celebration is not fortuitous, but is rather a carefully-thought-out initiative aimed at paying homage to women for being at the frontlines of the battle against COVID-19, one of the most deleterious crises in contemporary history that impacted all aspects of our lives and had serious repercussions on various fields.
He also reviewed the key programmes and activities held as part of ICESCO's Year of Women 2021, notably:
• ICESCO Program for Building Women's Entrepreneurial Capacity.
• ICESCO Program for Improving Sanitation Services in Rural Schools;
• Celebrating International Days and dedicating them to women;
• ICESCO Peace Ambassadors Program;
• Allocating ICESCO prizes to women;
• Establishing ICESCO Scientific Chairs for Women;
• The "Women Pioneers Around the World" Program.
In conclusion of his address, Dr. AlMalik conveyed his gratitude to H.R.H. Princess Lalla Meryem for gracing the event with her generous presence, extending thanks to the honorable guests, before reciting a poem that he composed in recognition of women's role in society.
The "Awareness Bells on the Role of Women in the Future of the Islamic World" were then launched, followed by the Princess's visit to an exhibition showcasing handicrafts and products made by Moroccan women's cooperatives.