World Experts Join ICESCO in Discussing AI Latest Developments and Challenges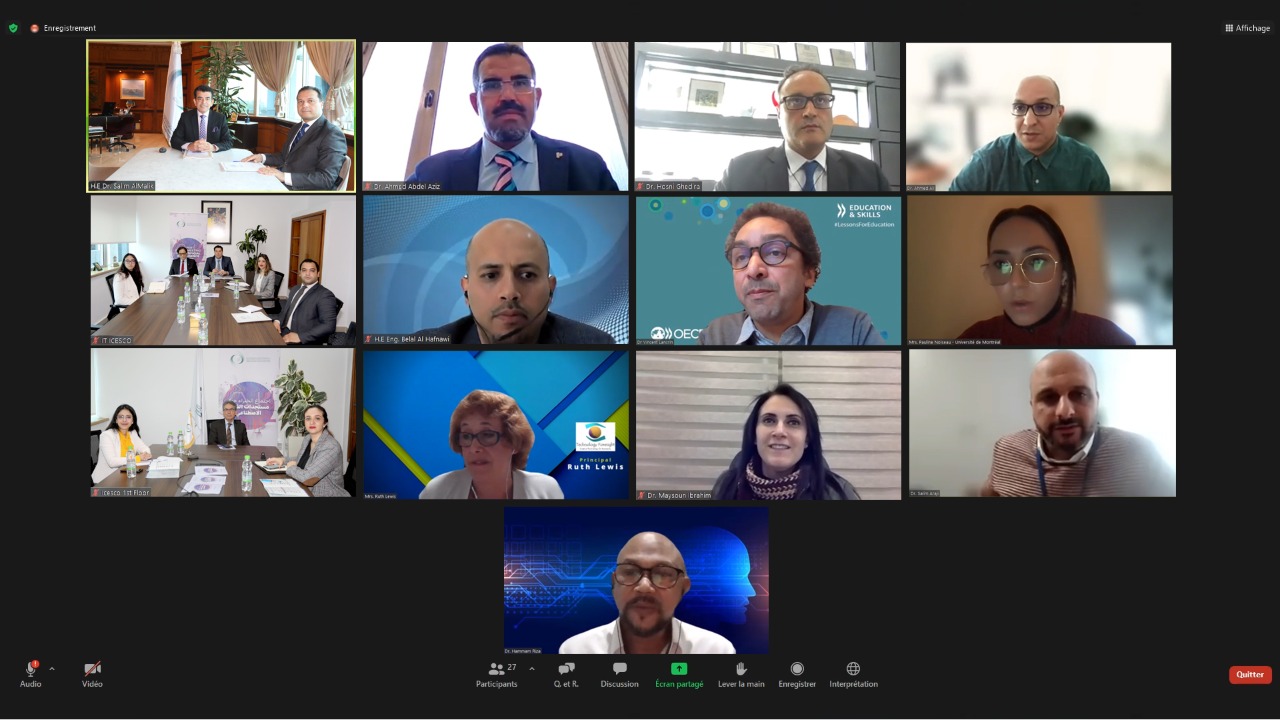 18 March 2022
Participants in the Expert Group Meeting on Artificial Intelligence News, that the Center of Strategic Foresight at the Islamic World Educational, Scientific and Cultural Organization (ICESCO) held, stressed the need to promote the concept of Artificial intelligence. The goal is to build a better future, encourage the adoption of AI during crises, raise awareness of AI's promising opportunities, and shed light on the dangers and threats AI may pose, especially about ethics and privacy.
The meeting was held on Thursday, March 17, 2021, via videoconference, and brought together several prominent AI experts, academics, researchers and representatives of international organizations. The meeting is part of the efforts of the Center of Strategic Foresight to anticipate future trends and explore the future of Artificial Intelligence.
In his opening remark, Dr. Salim M. AlMalik, ICESCO Director-General (DG), stated that according to global forecasts, AI could help achieve 79 % of the Sustainable Development Goals (SDGs). He stated that ICESCO considers AI as an element of its anticipatory strategy as an organization interested in modern technology and innovation in service of its Member States and support of their capacity-building efforts in the fields of education, science and culture.
The DG also stated that we are all concerned with building a sustainable future through a variety of means including laying down and planning for possible future scenarios and helping decisions makers anticipate the future by capitalizing on modern technology, including the Metaverse, space science, and AI to address future challenges in all fields.
At the close of his address, the DG warned against the threats related to AI, especially concerning ethics and privacy, reaffirming ICESCO's commitment to promoting the culture of foresight in the Islamic world.
In his address to the meeting, Dr. Kais Hammami, Head of the ICESCO Center for Strategic Foresight, referred to the significance of such a meeting in casting light on the various dimensions of AI applications and discussing the relevant challenges in the Islamic world. He also noted that the meeting is an opportunity to understand the concept and highlight the features of modern technology as a rapidly growing phenomenon.
Following the opening remarks, the meeting's session discussed the future of AI, where participants highlighted the latest advancements in AI technology across the globe. They also gave presentations on AI's pros and cons and addressed the issue of ethics in using AI as one of the major technological revolutions in human history. Participants also stated that this technology can ensure quality education, access to knowledge and offer opportunities to upgrade vital fields such as health and agriculture and address key challenges such as climate change.