ICESCO Chair at Euro-Mediterranean University Organizes Training for Girls on Artificial Intelligence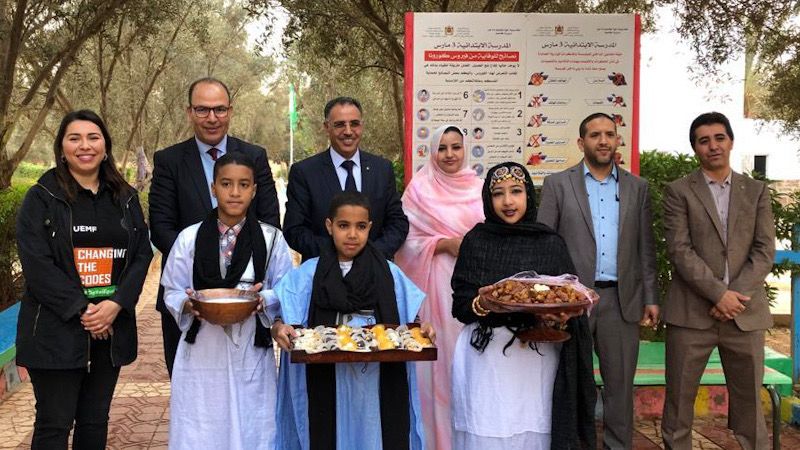 26 February 2022
Within the framework of the activities of ICESCO Chair on "Women in Science: Artificial Intelligence and the Future" at the Euro-Mediterranean University, in Fez, Kingdom of Morocco, the Chair, in cooperation with the Regional Academy of Education and Training of Guelmim-Oued Noun Region, organized two training sessions for girls of Guelmim-Oued Noun Region, under the theme "Inspiring future young women to become women leaders in artificial intelligence," to encourage girls to study digital engineering and artificial intelligence.
The two training sessions, which started on Saturday (February 26, 2022), and last for two days, in two primary schools, will benefit 100 girls aged 7-10. Dr. Maha Kamira, who is in charge of the Chair, designed the training program to develop the critical and creative thinking of the beneficiary girls by tackling current issues related to science, technology, engineering and mathematics such as machine learning, data science, the Internet of Things and technological infrastructures.
Dr. Kamira emphasized that this initiative aims to bridge the gender gap in technology, noting that digital inclusion and literacy enhance the contributions of girls and women in key areas such as gender equality and climate action.
She added that age is a decisive factor in orientation, stressing the need to integrate the educational and awareness-raising dimension about artificial intelligence in educational curricula to provide information for young girls on the field.
In May 2021, ICESCO and the Euro-Mediterranean University signed an agreement to establish the ICESCO Chair on "Women in Science: Artificial Intelligence and the Future" at the University, to promote scientific research in the field of artificial intelligence, and encourage the participation of girls and women in this field through training, workshops and doctoral research, as well as enshrining the culture of foresight.