FUIW Explores Arrangements for Launching Network of Theatre, Film and Performing Arts Training Institutions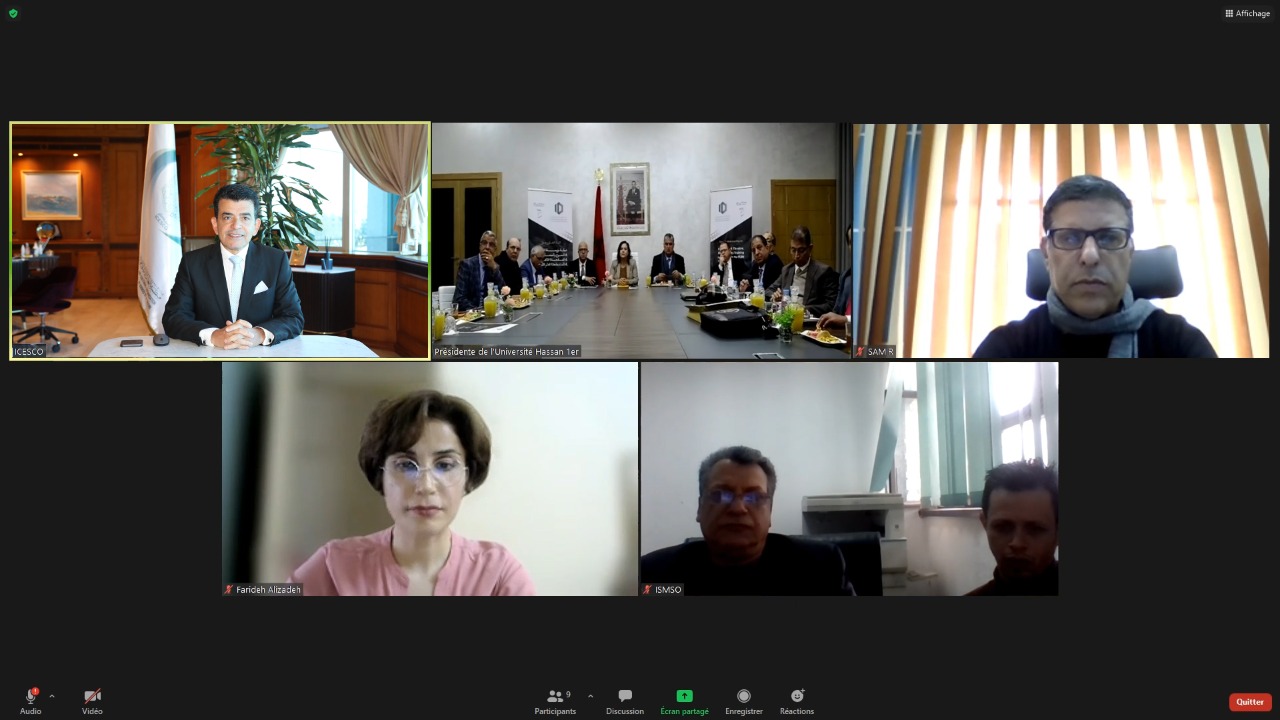 15 February 2022
The Federation of the Universities of the Islamic World (FUIW) of the Islamic World Educational, Scientific and Cultural Organization (ICESCO) held a meeting with representatives of several universities, institutes and colleges offering education in arts, theatre and music in the Islamic world. The meeting aimed at discussing arrangements for launching the Network of Theatre, Film and Performing Arts Training Institutions in FUIW Member Universities, which seeks to foster cooperation among faculties, institutes and colleges, and promote exchange among students and researchers.
The meeting took place on Tuesday, February 15, 2022, at Hassan I University in Settat, Morocco, and via videoconference. The parties reviewed the educational experiences of participating universities, institutes and colleges and explored avenues of cooperation to ensure the success of the Network of Theatre, Film and Performing Arts Training Institutions in FUIW Member Universities.
Dr. Salim M. Al-Malik, ICESCO Director-General (DG) and FUIW Secretary-General began the meeting with welcoming remarks, noting that the Network is part of the Draft Statute of the Leagues of Parallel Faculties. This project is geared towards promoting linkages among Member Universities and developing joint scientific and research plans that would facilitate exchange among researchers and students.
ICESCO DG added that this project aims to enhance cooperation among colleges, institutes and schools offering education in theater, cinema and performing arts in FUIW Member Universities, achieve convergence of visions, and standardize relevant terminology. The Network also seeks to encourage the creation of specialized research centers and foster cooperation with peer colleges and institutes in international universities.
For her part, Dr. Khadija Essafi, President of Hassan I University, emphasized that arts play an instrumental role in education by creating harmony among students, honing their skills, increasing their self-confidence and igniting their creativity and developing their critical thinking skills. "Digital transformation offers unprecedented possibilities for interaction and artistic exchange. This made it necessary for universities to lay greater focus on arts, which is the overarching objective of the Network," added Dr. Essafi.
Dr. Omar Halli, Advisor to ICESCO Director-General for the FUIW, stressed that the Network will serve as a link between theatre, film and performing arts training institutions and students in the Islamic world. The Network will unleash students' artistic potential in various areas of specialization and have a positive impact on societies.