AlMalik And Karimov Discuss Developments in Cooperation Between ICESCO and Azerbaijan in Cultural Field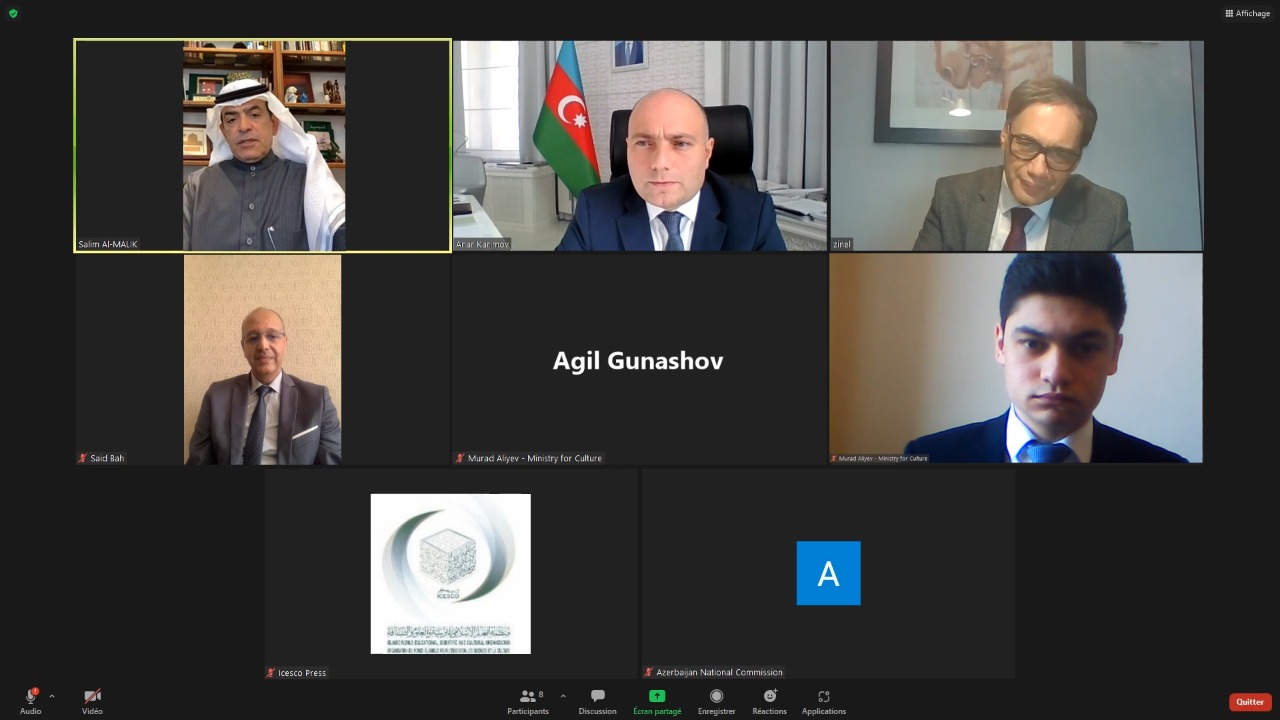 2 February 2022
Dr. Salim M. AlMalik, Director-General (DG) of the Islamic World Educational, Scientific and Cultural Organization (ICESCO), met with Mr. Anar Karimov, Azerbaijani Minister of Culture. The two parties discussed developments in cooperation between ICESCO and Azerbaijan in the cultural field and reviewed the implementation plans of their future joint programmes and activities.
The meeting, which took place on Wednesday, February 2, 2022, via videoconference, saw the participation of officials from ICESCO and Azerbaijan's Ministry of Culture and the National Commission for Education, Science and Culture. During the meeting, Dr. AlMalik expressed his satisfaction in ICESCO's distinguished partnership with the Republic of Azerbaijan in the Organization's areas of competence.
"This partnership is part of ICESCO's new vision and action strategy which are based on sustained communication with the Member States, identification of their priorities and needs, and coordination with their competent authorities to devise joint programmes accordingly," explained ICESCO DG.
For his part, Mr. Karimov emphasized that Azerbaijan is keen to foster partnership with ICESCO, commending the Organization's role in advancing the cultural field through the inscription and preservation of the Islamic world's heritage and the promotion of peace, coexistence and dialogue among civilizations.
The meeting touched upon future joint programmes and activities between ICESCO and the Ministry. The two parties agreed to hold further meetings between experts from both sides to follow up on the implementation plans of the discussed programs and activities.
The meeting brought together Dr. Mohamed Zine El Abidine, Head of ICESCO Culture and Communication Sector, and Dr. Ahmed Said Bah, Advisor to ICESCO DG for Partnerships and International Cooperation, as well as Mr. Ajil Gunashov, Secretary-General of the Azerbaijani National Commission for Education, Science and Culture, and Mr. Murad Aliyev, Head Advisor of the Division for International Cooperation at the Ministry of Culture.