Launch of ICESCO Program for Improvement of Water, Sanitation and Hygiene Services in Rural Ugandan Schools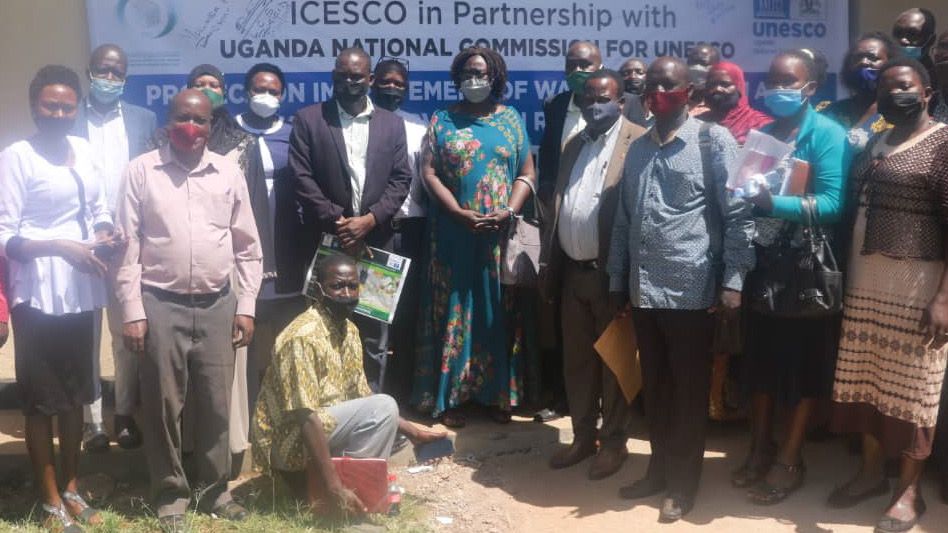 12 January 2022
The Bugiri District in East Uganda saw the launch of the ICESCO Program for the Improvement of Water, Sanitation and Hygiene Services in rural Ugandan schools, a program implemented in cooperation with the Ugandan National Commission for UNESCO and ICESCO and several civil society institutions. The first phase of the Program benefits four ICESCO Member States, namely Mali, Morocco, Uganda, and Senegal, and aims to improve water and sanitation services in 1000 rural schools.
ICESCO Sector of Science and Technology took part, via videoconferencing, in the launch ceremony, held face-to-face on Tuesday, 11 January 2022, at the District City Hall, in the presence of the Secretary-General of the Ugandan National Commission for UNESCO and ICESCO, several City Hall officials, and representatives of the Islamic University of Uganda and the Conservation Efforts for Community Development (CECOD).
In her address at the ceremony, Ms. Rosie Agoi, Secretary-General of the Ugandan National Commission for UNESCO and ICESCO, expressed her thanks and gratitude to ICESCO for implementing such a program and choosing Ugandan schools to benefit from its outstanding services. Ms. Agoi added that the Program is in line with the Ugandan Government's priorities to improve the quality of education and provide better learning environments for students in rural areas.
For his part, the Head of the Bugiri District thanked ICESCO and its national partners for choosing his district to benefit from the first phase of the Program, stressing that Bugiri will ensure continuous maintenance of the school facilities the Program will provide to guarantee the project's success.
Dr. Foued El Ayni, Expert at ICESCO's Science and Technology Sector, commended the fruitful partnership between ICESCO and the Ugandan National Commission, and the cooperation of the local Ugandan institutions taking part in this ambitious program aiming at improving the water and sanitation services in rural schools to protect students from diseases.
The ceremony featured several technical presentations on the Program's strategy, implementation phases and the necessary training to raise students' awareness of the importance and proper ways of personal hygiene to prevent the spread of diseases.