New prospects for Cooperation between ICESCO and IICO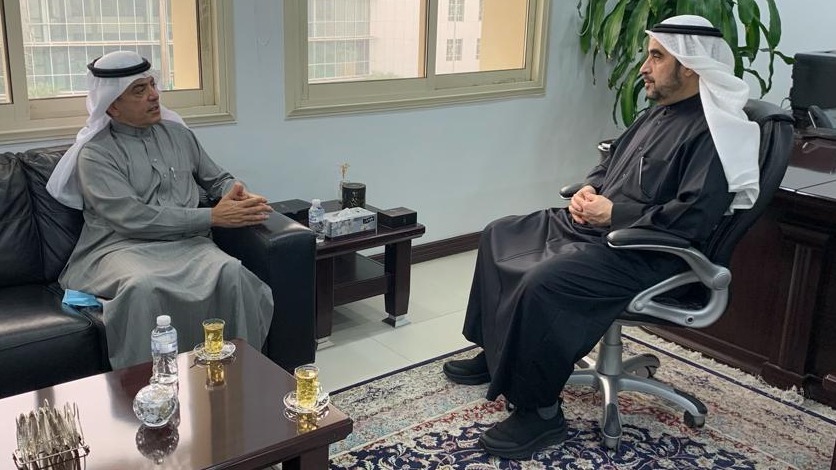 11 January 2022
Dr. Salim AlMalik, Director-General (DG) of the Islamic World Educational, Scientific and Cultural Organization (ICESCO), held a meeting with Mr. Badr Al-Sumait, Director-General of the International Islamic Charitable Organization (IICO), to explore cooperation between the two Organizations in the humanitarian field and moving forward to new horizons, especially in educational and cultural programs as well as promoting the correct image of Islamic culture and civilization to the world.
During the meeting, held today, Tuesday, January 11, 2022, at the IICO's headquarters in Kuwait, the two parties reviewed the key ongoing initiatives, programs, projects and proposals to develop cooperation and partnership between ICESCO and IICO in areas of common interest.
The two parties agreed to cooperate in the educational field, especially in educational technology, strengthening smart educational facilities and supporting online education to address the negative effects of the Covid-19 pandemic on educational performance and school drop-out in particular, as well as implementing training and rehabilitation programs for young people, girls and women in the field of productive and income-generating entrepreneurship projects.
The two Organizations also agreed to cooperate in the field of granting university scholarships to distinguished scientific research projects, in prestigious universities in the Member States and abroad, as well as supporting programs to promote a culture of peace and consolidate the values of dialogue, understanding and moderation through conducting training and qualification programs and organizing intellectual conferences and scientific seminars.
At the conclusion of the meeting, Dr. AlMalik and Dr. Al-Sumait reaffirmed their eagerness to turn these projects into executable programs, as they will be included in a new cooperation agreement between ICESCO and IICO that will be signed shortly.
The meeting was also attended by Dr. Ahmed Said Bah, Advisor to ICESCO DG for Partnerships and International Cooperation, and Mr. Yousef Al-Najjar, Assistant Undersecretary of the Kuwaiti Ministry of Education for Financial Affairs.
For the record, IICO is one of the major institutions operating in the humanitarian field in the Islamic world. It is an independent charitable organization with multiple activities providing humanitarian services to vulnerable people around the world without discrimination or fanaticism. It also empowers human beings in educational, cultural, and economic aspects to be able to create a positive impact on their communities through high-quality programs and effective partnerships.