ICESCO Director-General Visits King Abdulaziz International Camel Festival, in Riyadh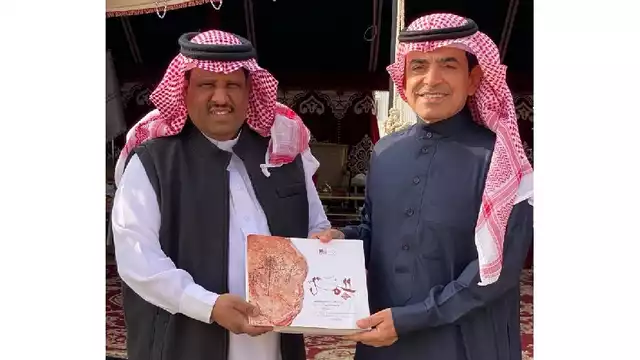 18 December 2021
In response to an official invitation from the International Camel Organization (ICO), Dr. Salim M. AlMalik, Director-General of the Islamic World Educational, Scientific and Cultural Organization (ICESCO), and his accompanying delegation, visited ICO's 6th edition of King Abdulaziz International Camel Festival, held in cooperation with the Saudi Camel Club. The Festival includes international competitions that attract participants from all over the world and activities valuing the cultural heritage related to camels and desert culture.
Dr. Mubarak Al-Suwailem, ICO Secretary-General, received ICESCO DG and his accompanying delegation, reviewing ICO's major initiatives, programs and efforts geared towards publicizing and promoting the history and heritage pertaining to camels.
ICESCO DG commended ICO's achievements, stressing ICESCO's willingness to continue cooperation between the two parties as part of their partnership agreement signed in April 2021, and the implementation plans of the cooperation programs, mainly the programs on the civilizational and cultural heritage associated with camels and desert culture as well as its inscription on the Islamic World Heritage List.
ICESCO delegation visited the heritage exhibition, held on the Festival's sidelines, under the theme "Do they not look", which includes a large number of collections and tools related to camels heritage and culture, as well as one of the Festival's races. The 6th edition witnessed a remarkable development in its activities and competitions and large participation from all over the world.
ICESCO delegation will also participate in King Abdulaziz International Conference on Camels (Camel Economics and Studies), which will kick off on Sunday, December 19, 2021, with the participation of a group of specialists, intellectuals and other parties interested in camel cultural heritage.
The delegation representing ICESCO at the Conference consists of Dr. Abdelilah Benarafa, Deputy Director-General; Ambassador Khalid Fathalrahman, Director of the Center for Civilizational Dialogue; Dr. Said Bah, Advisor to the Director-General for Partnerships and International Cooperation; and Mr. Najib Riati, Cultural Adviser to the Director-General.