In a big ceremony at Coventry Headquarters: ICESCO Director-General Receives Honorary Doctorate in Arts from Coventry University in Britain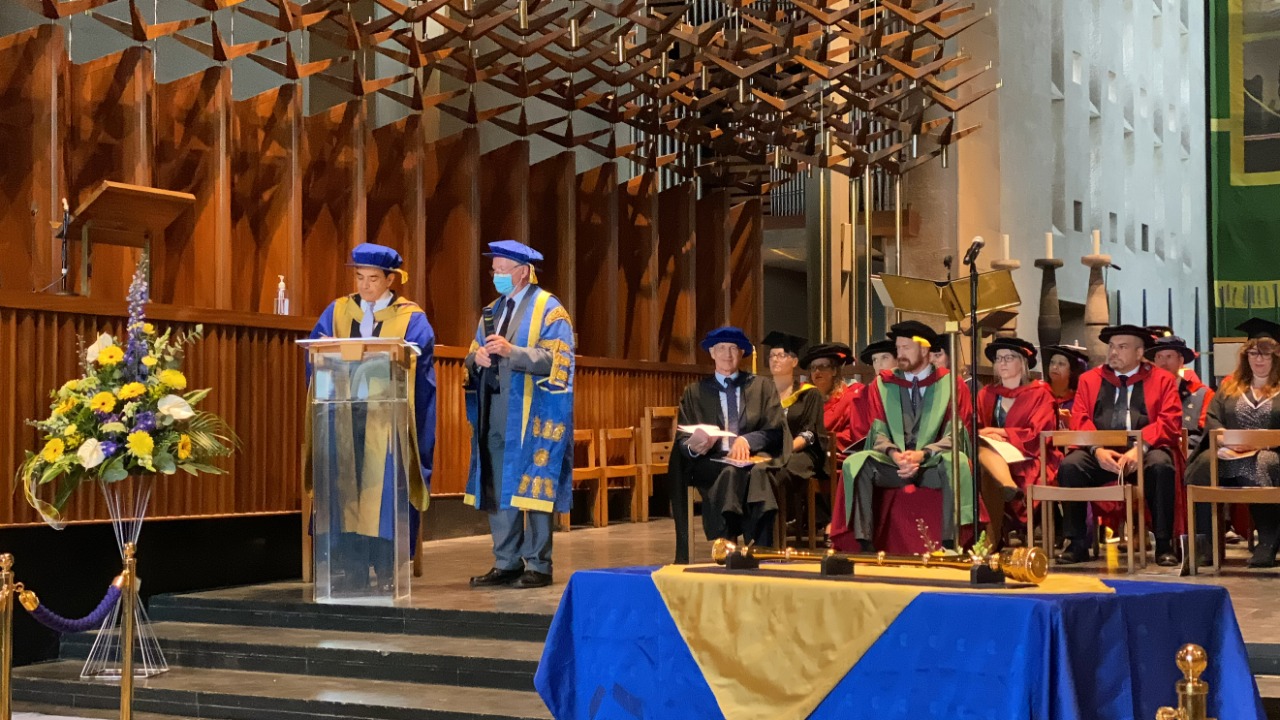 17 November 2021
In a huge conferment ceremony with high-level participation, held at the headquarters of Coventry University, on Tuesday, November 16, 2021, the British University awarded the Honorary Doctorate in Arts to Dr. Salim M. AlMalik, Director-General (DG) of the Islamic World Educational, Scientific and Cultural Organization (ICESCO), in appreciation of his efforts in the fields of education, culture, peacebuilding and the consolidation of the values of coexistence.
Dr. Michael Hardy, Professor at the Center for Trust, Peace and Social Relations at Coventry University, began the ceremony with a speech wherein he underscored that the Academic Board of Coventry University had decided to award the Honorary Doctorate to Dr. AlMalik in recognition of his great contributions in the fields of education, eradication of poverty, illiteracy and extremism, and building relations of peace in the Middle East.
After receiving the degree, ICESCO DG delivered an address wherein he expressed his gratitude and pride for such a degree from a prestigious and age-old university in arts and science given its leading role in developing societies and contributing to sustainable development goals by qualifying students and promoting education, research and innovation in the cultural, social, scientific and economic fields.
Dr. AlMalik also expressed his sincere thanks and appreciation to the Custodian of the Two Holy Mosques, King Salman bin Abdulaziz, the Crown Prince, and Saudi Arabia for the unlimited support he has received throughout his educational and vocational career and their constant support for the development of the various levels of the educational process in Saudi Arabia.
ICESCO DG stressed the urgent need for excellence and accuracy in the academic field through the promotion of constructive criticism, independence of thought, and the development of innovative educational methods and new research skills aimed at building capacities. He also called for adopting foresight to counter the current challenges and crises and turn them into opportunities to achieve development and prosperity.
Dr. AlMalik also explained that ICESCO and Coventry University share the same vision and approach aimed at developing the educational process and ensuring the right to education for all to achieve peace, coexistence and harmony among societies and cultures, and build a better world for future generations. He also elucidated on ICESCO's initiatives, which provide support for the efforts of Member States in the fields of education, science and culture.
Coventry University is one of the long-standing British universities, established in 1843 AD, and offers various disciplines such as arts and humanities, engineering, environment and computing, health and life sciences, business and law, and art and design. The University also has many international branches in China, Kenya, Nigeria, and Pakistan, as well as numerous research and scientific partnerships worldwide.