ICESCO DG Receives the Ambassador of the Republic of Korea in Rabat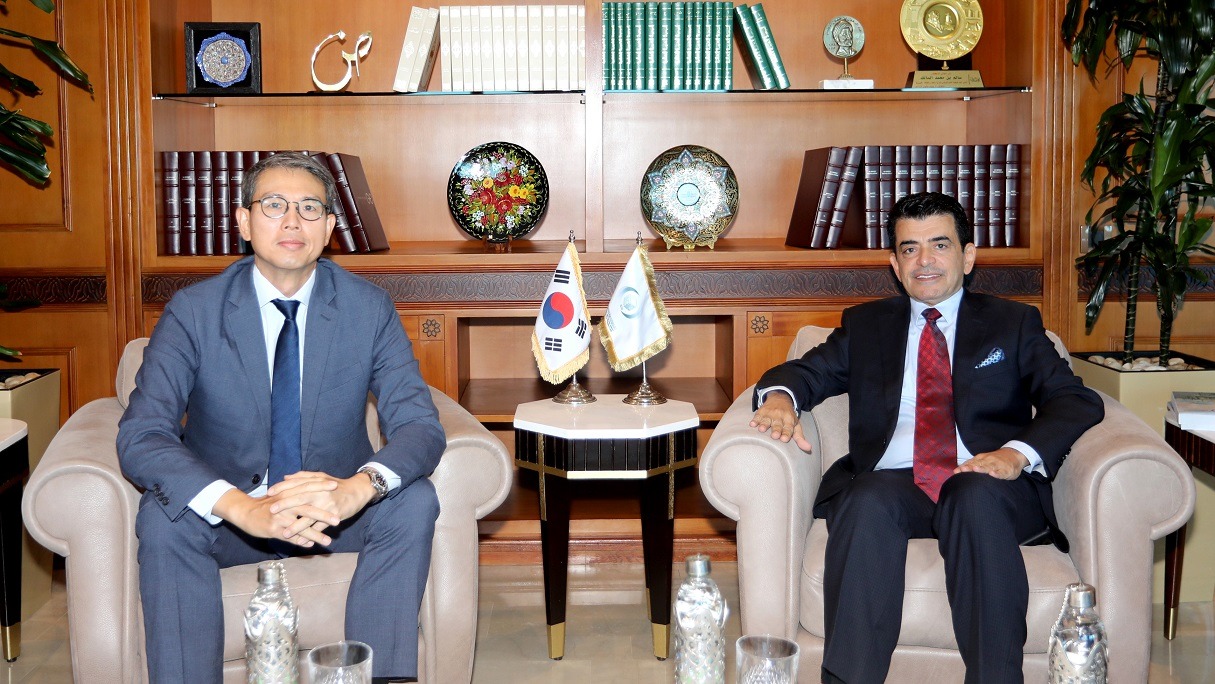 9 November 2021
Dr. Salim M. AlMalik, Director-General (DG) of the Islamic World Educational, Scientific and Cultural Organization (ICESCO), received Mr. Keeyong Chung, Ambassador of the Republic of Korea to the Kingdom of Morocco, to explore prospects for cooperation between ICESCO and Korea in the fields of education, science and culture.
During this meeting, held on Monday, November 8, 2021, at ICESCO Headquarters in Rabat, Dr. AlMalik reviewed the main outlines of the Organization's vision and action strategy, which adopts an open-door policy with all countries, including non-Member States, to promote cooperation and hold partnerships for the benefit of the Member States and Muslim communities around the world, pointing out that ICESCO has amended its Charter to allow non-Member States to join the Organization as observers.
ICESCO DG also explained that the Organization seeks to become a leading international institution in civilizational dialogue and a center of excellence on strategic foresight and artificial intelligence for the benefit of its Member States. Besides, he noted that the Organization supports girls, women and youth through training sessions on leadership for peace and security, highlighting ICESCO's action in safeguarding and preserving heritage through the inscription of historical sites and cultural elements on the Islamic World Heritage List.
The meeting discussed proposals for cooperation between ICESCO and Korea, particularly in education given the great successes and outstanding expertise of the educational system in the Republic of Korea, which can be shared with Muslim countries through specialized conferences and seminars. The meeting also touched upon cooperation in the field of teaching Arabic, research and studies centers, and the provision of scholarships to young people from the Member States to study in Korea.
For his part, the Korean Ambassador to Morocco commended the ongoing development and modernization within ICESCO, as attested by all his fellow ambassadors in Rabat, noting that the presence of a Korean expert at ICESCO reaffirms the Organization's openness approach although Korea is not one of its Member States.
The Korean Ambassador inquired about the necessary procedures for any country to join ICESCO as an observer, stressing that he will strive to ensure the accession of Korea to ICESCO based on his conviction of the importance of membership at a well-established Organization that represents 54 countries with which Korea has special relations.