ICESCO Organizes Workshop on Developing Methods of Teaching Islamic Education in Guinea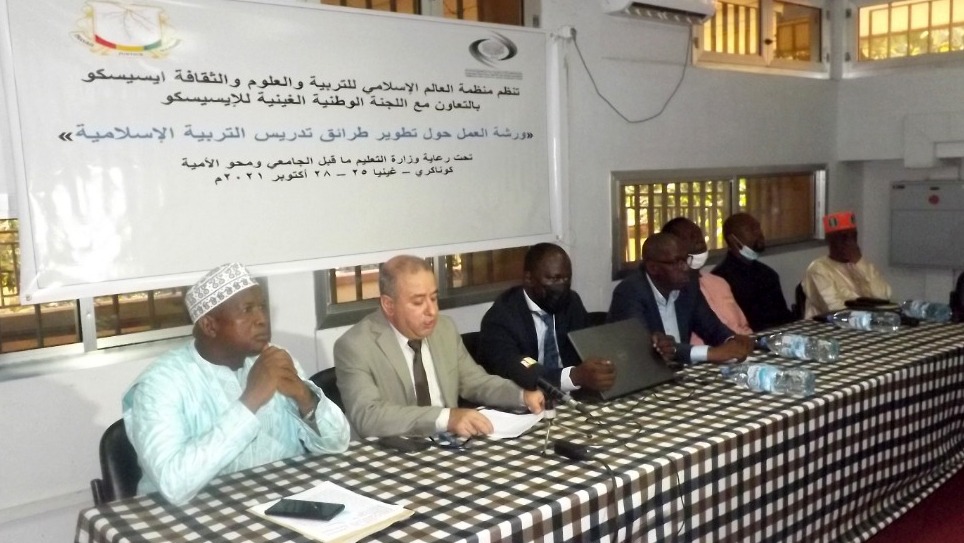 25 October 2021
The Education Sector of the Islamic World Educational, Scientific and Cultural Organization (ICESCO) launched on Monday, October 25, a three-day workshop on "Developing Teaching Methods of Islamic Education" in Conakry, capital of the Republic of Guinea, in cooperation with the Guinean National Commission, for the benefit of a number of teachers, mentors and inspectors working in the field of Islamic education teaching.
The workshop, held under the auspices of the Ministry of Pre-University Education and Literacy in Guinea, aims to provide the staff working in the field of teaching Islamic education with the necessary advanced expertise and skills in the educational field and train them on modern methods of teaching Islamic education, in addition to identifying the obstacles they face. The workshop also aims at encouraging communication between persons of interest and specialists in this field, exchanging expertise and experiences among them and enhancing the role of Arab and Islamic educational institutions in education for peace, coexistence and social cohesion.
During the opening session, a number of Guinean officials commended ICESCO's role in promoting the educational process and the support the organization provides for its Member States, including the Republic of Guinea. In his turn, ICESCO representative, Dr. Youssef Abou Daka, Programs Director at the Organization's Education Sector, touched on the importance of organizing the workshop, hoping that it would achieve its objectives in developing methods and ways of teaching Islamic education in Arab and Islamic educational institutions in the Republic of Guinea and strengthening the roles of its teaching staff in the development of a culture of peace.
The workshop sessions dealt with the reality of teaching Islamic education in Guinea, the methodological, technical and general educational specifications and rules in the process of preparing textbooks for teaching Islamic education, the use of modern learning theories in preparing subject lessons and addressing the role of new scientific, educational and technical competencies for the teachers of Islamic education in developing teaching methods, the investment of modern teaching methods in presenting the content of Islamic education, information and communication technology and their use in teaching Islamic education and the role of religious institutions in developing a culture of peace in societies.