ICESCO and Gabon Agree on Set of Social Cooperation Programs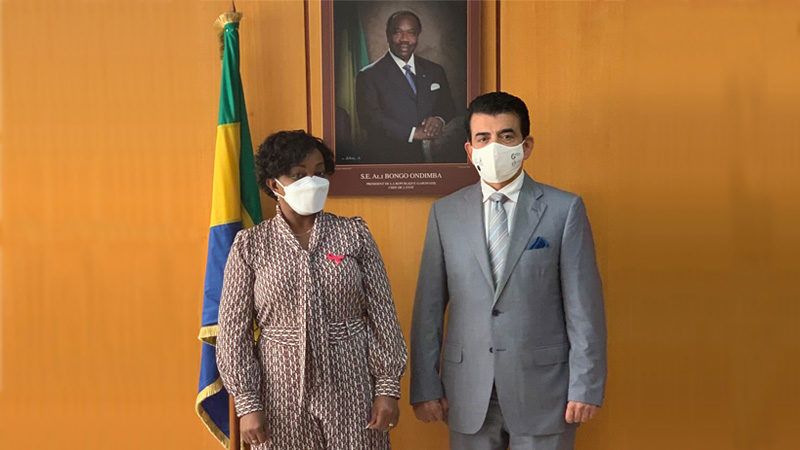 5 October 2021
Dr. Salim M. AlMalik, Director-General (DG) of the Islamic World Educational, Scientific and Cultural Organization (ICESCO), started his official visit to Gabon in meeting with Ms. Prisca Nlinde Koho, Minister of Social Affairs and Women's Rights of Gabon, during which the two parties explored the prospects for cooperation in the areas of social development, women leadership and combating girls' school dropouts.
During the meeting, held on Monday, October 4, 2021, Dr. AlMalik reviewed the most prominent programs and initiatives that ICESCO launched and implemented to support the efforts of Member States in countering the negative repercussions of the Covid-19 pandemic on the educational, scientific and cultural fields, as well as aid to several countries, in partnership with donors, based on the needs and requirements of each country through further communication with the Member States.
The meeting also touched upon the key programs and activities of the Social and Human Sciences Sector at the Organization, most notably ICESCO Leadership Training in Peace and Security, which aims to rehabilitate and build the capacities of young people and women as the basis for establishing peace and building the societies we want to become the true ambassadors of peace in their societies by providing them with the tools of knowledge through inspiring leaders, experts, and trainers.
For her part, Ms. Prisca Nlinde Koho reviewed the national strategy for the advancement of the social sector in Gabon and the various social development plans, stressing her keenness to build fruitful cooperation with ICESCO in implementing these plans and strategies in Gabon.
At the close of the meeting, the two parties agreed to cooperate in women's rehabilitation programs, women leadership trainings, addressing girls' school dropouts, and holding an international conference on the Gabonese model in the field of social development, in cooperation between ICESCO, Gabonese government and Sylvia Bongo Ondimba Foundation, as well as launching an award to confront violence against women and inviting Gabonese officials and experts to take part at ICESCO's conferences and symposia.
The two parties have formed a joint working group to follow up on the implementation and evaluation of programs and projects that will be implemented in cooperation between ICESCO and the competent authorities in the Republic of Gabon.
The meeting brought together Ms. Ramata Almami Mbaye, Director of the Social and Human Sciences Sector at ICESCO; and Dr. Ahmed Said Bah, Advisor to the ICESCO DG for Partnerships and International Cooperation.