ICESCO Director-General Receives Italian Ambassador in Rabat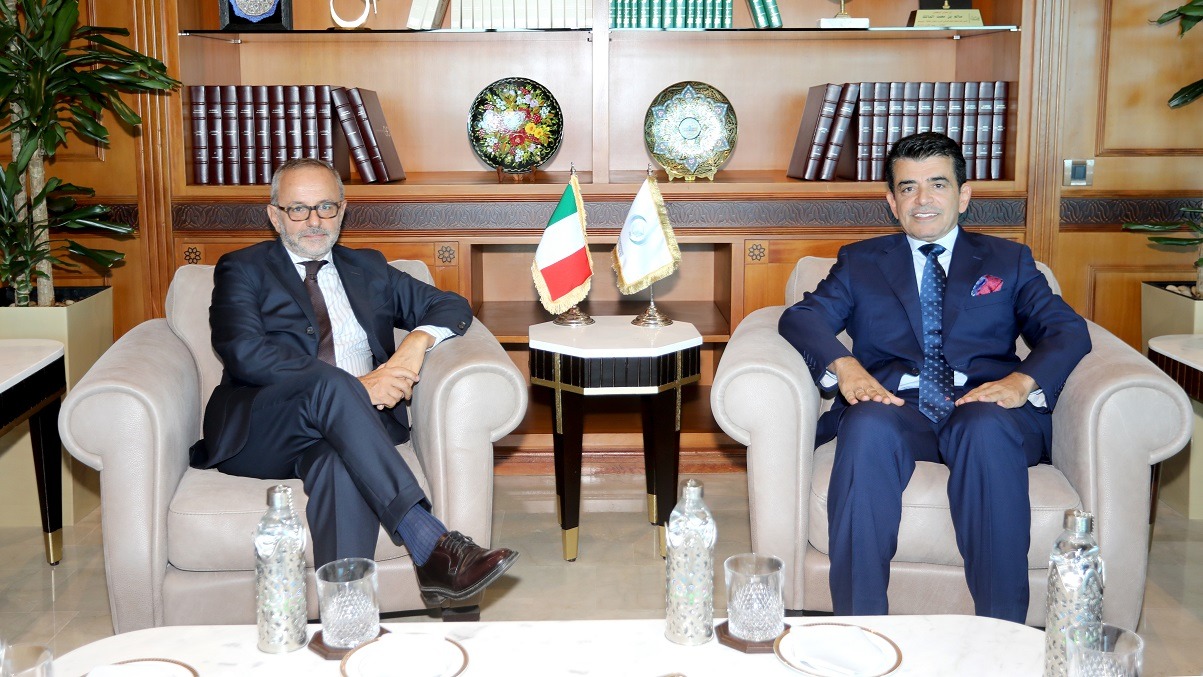 23 September 2021
The Director-General (DG) of the Islamic World Educational Scientific and Cultural Organization (ICESCO), Dr. Salim M. AlMalik, received the Ambassador of the Italian Republic to Morocco, Mr. Armando Barucco. The meeting explored prospects for cooperation between ICESCO and Italy in the fields of education, science and culture.
At the outset of the meeting, held on Wednesday, September 22, 2021, at the Organization's headquarters in Rabat, ICESCO DG expressed his gratitude and appreciation to the Italian government for the good organization of the G20 Interfaith Forum 2021, held in Bologna. The Ambassador, in his turn, stated that one of the reasons for his visit to ICESCO is to thank Dr. AlMalik for his distinguished participation in the Forum's activities.
ICESCO DG reviewed the main axes of the Organization's vision and action strategy, stressing that ICESCO adopted an open-door policy to all countries, international organizations, and bodies to forge partnerships for the benefit of its Member States and Muslim communities around the world. He also highlighted the Organization's interest in civilizational dialogue and its effort in anchoring the values ​​of coexistence and peace and training and building capacities for youth and women.
Dr. AlMalik stated that safeguarding heritage and restoring cultural artifacts are among the fields that have broad prospects for cooperation between ICESCO and Italy. The latter is known for its ancient civilization, invaluable heritage treasures, and distinguished expertise especially in utilizing modern technologies.
The Italian ambassador to Rabat commended the roles of ICESCO, stressing his keenness to build fruitful cooperation between the Organization and Italy, home to a large Muslim community consisting of Muslim immigrants and others born there. He also stated that Italy is currently working on the establishment of an Islamic library in Palermo, which will be one of the largest Islamic libraries in Europe.
The meeting brought together several ICESCO's heads of sector and department, who gave presentations on the ongoing programs and projects of their sectors and departments.