Review of the prospects for cooperation between ICESCO and Quacquarelli Symonds Foundation in the field of academic evaluation and classification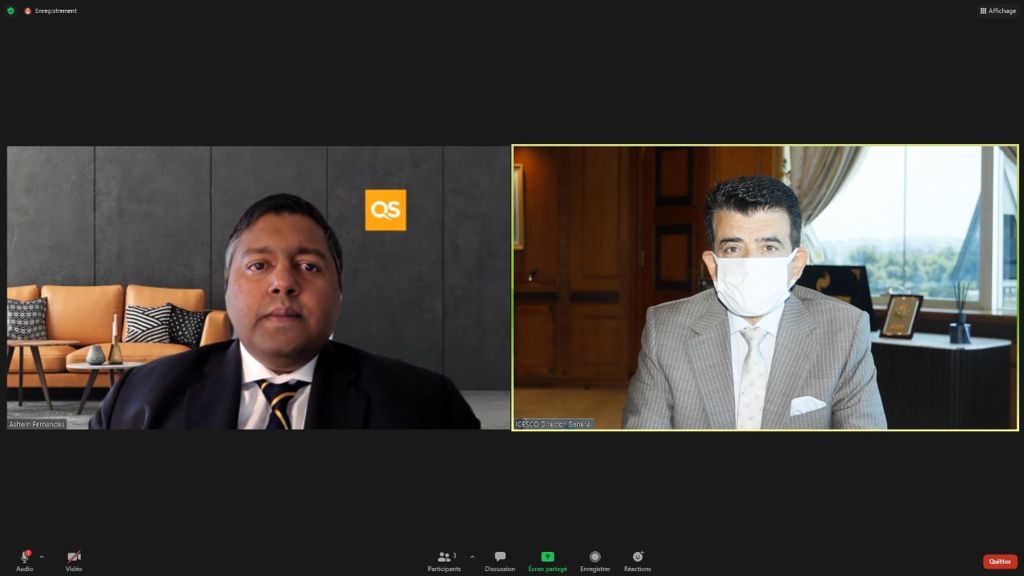 20 August 2021
Dr. Salim M. AlMalik, Director-General (DG) of ICESCO, met with Dr. Ashwin Fernandez, Regional Director of Quacquarelli Symonds Foundation (QS) in the Middle East, North Africa and South Asia, to discuss the prospects of cooperation between ICESCO and the Foundation in the field of capacity building, evaluation and classification of universities in the Islamic world, and the holding of a series of programs and seminars on how to promote related issues.
During this virtual meeting that took place on Thursday, August 19, 2021, with the participation of managers and experts from ICESCO's sectors, Dr. AlMalik confirmed that cooperation with QS will contribute to raising the level and quality of education in universities in the Islamic world, by organizing joint activities and programs that contribute to the exchange of experiences and good practices in higher education among universities.
For his part, Dr. Ashwin Fernandez expressed his pleasure to cooperate with ICESCO, stressing that the partnership with the Organization will enable universities in the Islamic world to include evaluation and grading issues in their institutional policies and strategic orientations.
During the meeting, the two parties agreed to develop joint programs for the evaluation and classification of universities in the ICESCO Member States in general, and the member universities of the Federation of Universities of the Islamic World (FUIW) in particular, and to focus on evaluation mechanisms that will enable universities to occupy advanced ranks in the international classification. They also agreed to launch programs to raise awareness of evaluation and classification issues among university leaders, scientific research centers, professors, students and researchers, and their role in the advancement of universities and research institutes in the Islamic world.
The two parties also agreed to organize an international symposium, in the presence of several university presidents and higher education officials, to discuss the mechanisms for the development of evaluation and classification issues in the Islamic world, and to launch a joint ICESCO-Quacquarelli Symonds project for capacity building in the field of evaluation and classification.
In conclusion, it was agreed to sign a partnership agreement between ICESCO and the QS, to implement innovative programs and projects in the fields of evaluation and classification as discussed during the meeting.