ICESCO and King Abdulaziz Public Library Explore Prospects for Cooperation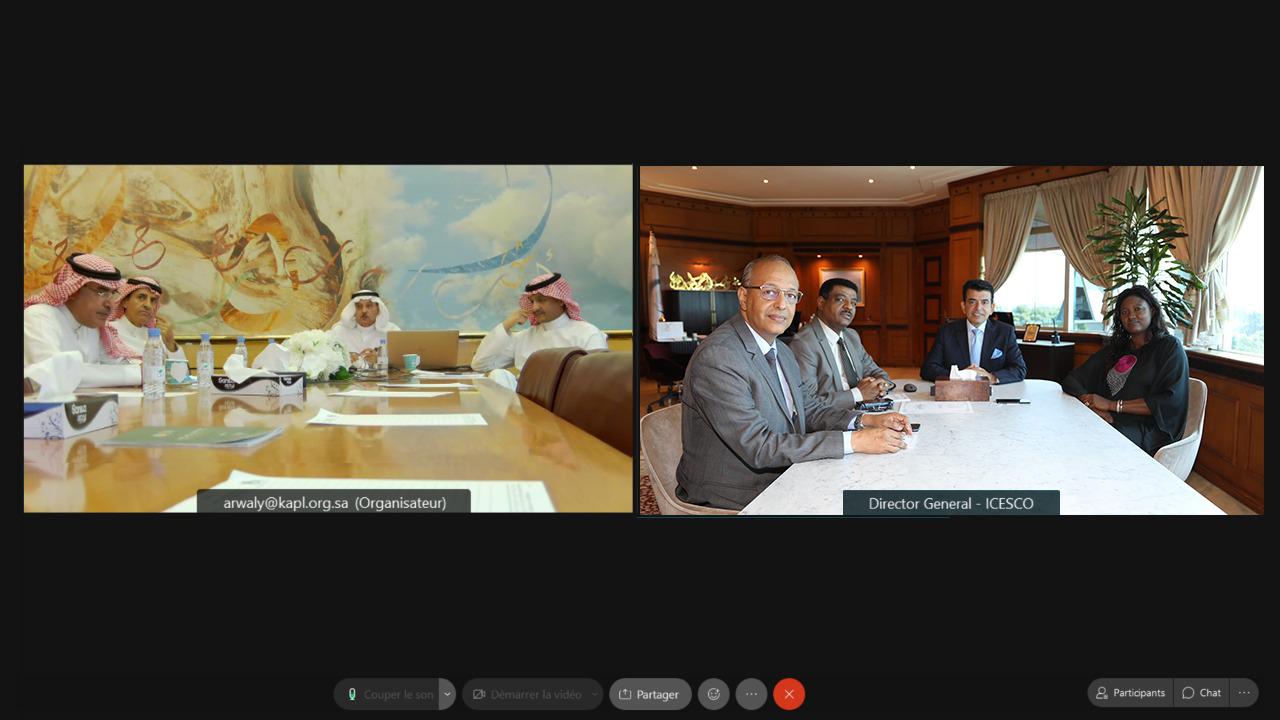 12 August 2021
The Islamic World Educational, Scientific, and Cultural Organization (ICESCO) and King Abdulaziz Public Library in Saudi Arabia held a meeting to discuss the prospects for cooperation in the areas of translation, publishing, digitization, producing documentaries and digital publications, holding intellectual and cultural activities, and establishing scientific chairs.
The meeting, held on Wednesday, August 11, 2021, via videoconference, brought together Dr. Salim M. AlMalik, ICESCO Director-General (DG), and Dr. Abdul Karim Al-Zaid, Deputy General-Supervisor of the Library, with the participation of several directors of ICESCO's sectors, as well as Dr. Bandar Al-Mubarak, DG of the Library, Dr. Saeed Al-Saeed, Secretary-General of King Abdullah Bin Abdulaziz International Prize for Translation, and Dr. Ibrahim Al-Balawi, Member of the Scientific Committee of King Abdullah Bin Abdulaziz International Prize for Translation.
In his statement during the meeting, Dr. Al-Malik highly praised the efforts and great roles of the Saudi Ministry of Culture to preserve the cultural identity and consolidate the values ​​of dialogue and diversity through many ambitious programs and projects inside the Kingdom and in other fraternal and friendly countries through the Ministry's cooperation and distinguished partnerships with international organizations concerned with cultural action and the preservation of tangible and intangible heritage.
ICESCO DG reaffirmed that King Abdulaziz Public Library is a pioneering and distinguished cultural, scientific and intellectual institution that provides high-level quality services inside and outside Saudi Arabia, stressing that ICESCO is keen to build a successful partnership with the library and other leading libraries in its Member States.
Dr. Abdul Karim Al-Zaid indicated that King Abdulaziz Public Library is looking forward to establishing fruitful cooperation with ICESCO in the areas of common interest, adding that partnership with the Organization is an important step towards major programs and projects in the intellectual and cultural fields.
At the close of the meeting, the two parties agreed to sign a cooperation agreement to implement integrated action programs, in coordination with the National Commission for Education, Culture and Science in the Kingdom of Saudi Arabia.