97 New Heritage Sites and Elements Inscribed on Islamic World Heritage List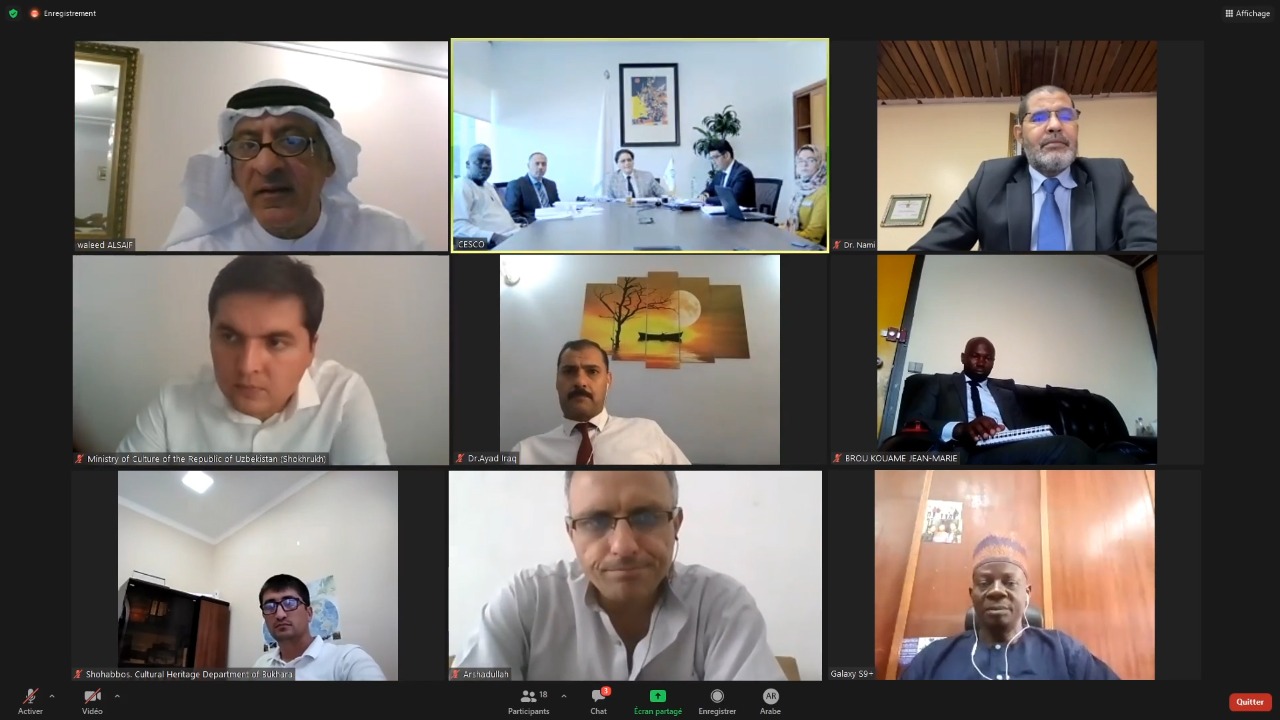 30 June 2021
The Islamic World Heritage Committee (IWHC), during its 9th ordinary meeting, that the Islamic World Educational, Scientific, and Cultural Organization (ICESCO) convened, decided to inscribe 97 new historical sites and cultural elements, including 58 historical sites and cultural elements on the Final Islamic World Heritage List (IWHL) and 39 sites and elements on the Tentative List. The Committee also deferred six sites and stressed contacting the countries concerned to complete the relevant nominations files. The total number of inscriptions on the IWHL has reached about 320 historical sites and cultural elements.
The meeting held on Tuesday, June 29, 2021, brought together the representatives of the following Member States: Kuwait, Iraq, Mauritania, Pakistan, Indonesia, Uzbekistan, Cameroon, Côté d'Ivoire, and Nigeria.
In his address, Dr. Mohammed Zine El Abidine, Head of Culture and Communication sector at ICESCO, highlighted the IWHC's key role in safeguarding the historic, civilizational, and natural monuments and the cultural elements in the Islamic World. Dr. Zine El Abidine also underscored the keenness of Dr. Salim M. Al Malik, ICESCO DG, to safeguard and promote the Islamic world heritage, and enhance its presence on the regional and international scene, as well as his diligent efforts in following up the Sector's action in this regard.
The Committee decided to adopt the General Secretariat's report on the implementation of the decisions and recommendations of the third extraordinary meeting, held on December 10, 2020. It also decided to form two commissions of experts accredited to the Islamic World Heritage Committee and under the supervision of ICESCO Heritage Center to examine the development of the forms and criteria of the inscription on ICESCO's Lists of Tangible and Intangible Heritage. The IWHC General Secretariat will select the members of the two commissions from the Scientific Commission.
At the close of its proceedings, the Committee issued a set of recommendations, where it called on the Member States to provide the Islamic World Heritage Center with data on the repercussions of the COVID-19 pandemic on heritage sites and museums, and their staff, support the center and provide technical and scientific assistance for the completion of the Encyclopedia of the Tangible Heritage of the Prophet Muhammad (PBUH).
The recommendations commended the efforts of the Islamic World Heritage Center to preserve heritage through activities, training courses, programs, and international agreements with specialized parties interested in various fields of world heritage. The Committee also called on the Member States to submit further nomination files for the inscription of heritage sites and intangible heritage elements on the Islamic World Heritage List and urged international organizations, and all countries to join the call of ICESCO and the Islamic World Heritage Committee to avoid intentional and unintentional damage to heritage sites and museums in situations of armed conflict, given that heritage belongs to all humanity.