ICESCO and Saudi National e-Learning Center Agree to Build Partnership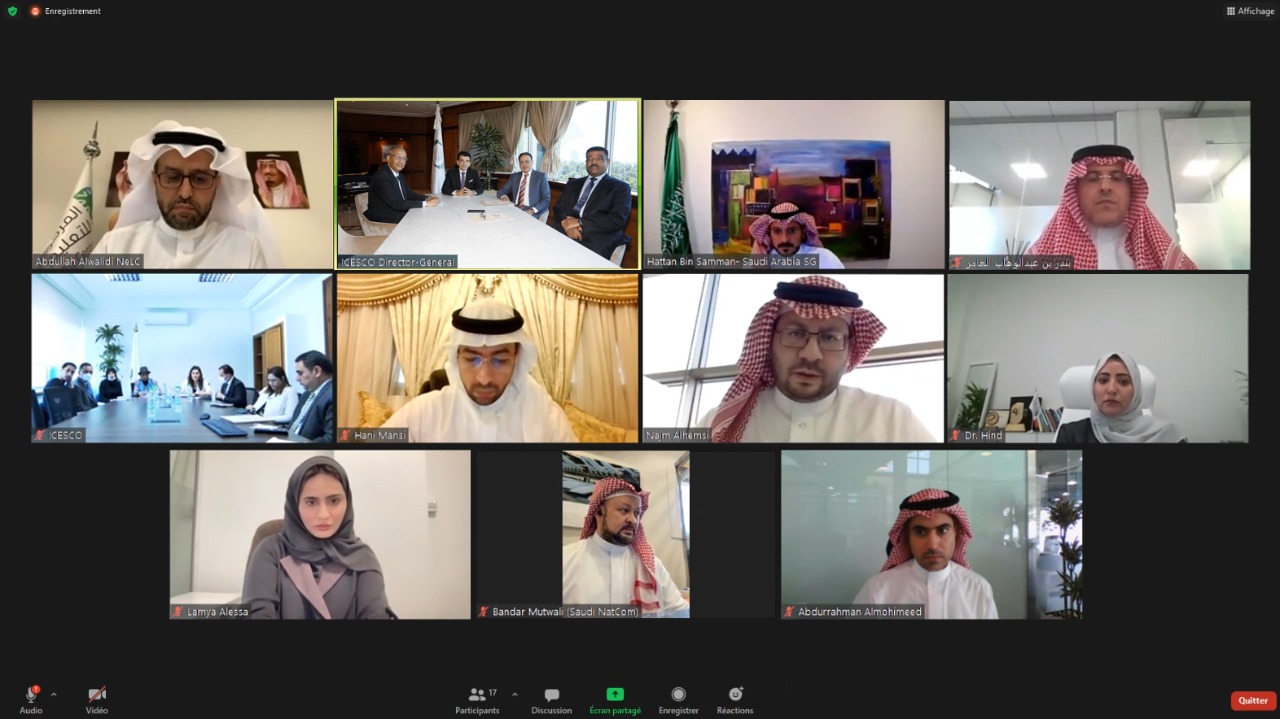 23 June 2021
The Islamic World Educational, Scientific and Cultural Organization (ICESCO), the National e-Learning Center of Saudi Arabia, and the Saudi National Commission for Education, Science and Culture held today, Tuesday 22 June 2021, via videoconference, a meeting to discuss drafting a framework for cooperation and partnership in the field of education between ICESCO and the Center and explore prospects for advancing education.
The meeting was attended by Dr. Salim M. AlMalik, ICESCO Director-General (DG); Dr. Abdullah bin Muhammad Al-Walidi, General Manager of the Center; and Prof. Hattan Muneer bin Samman, Secretary-General of the Saudi National Commission. Dr. Abdelilah Benarafa, ICESCO Deputy DG, several ICESCO heads of sectors and advisors, and a number of the Center's officials also attended the meeting.
During the meeting, Dr. AlMalik stated that ICESCO's new vision adopts an approach of renewal in the programs it offers within its areas of competence. He added that he is looking forward to building fruitful cooperation with the Center to transfer the remarkable expertise and successful experiences of the Kingdom of Saudi Arabia in the field of e-learning to several countries in the Islamic world.
Dr. AlMalik reaffirmed that the Saudi Center is a source of pride and a great model for advancing education systems in the Islamic world through promoting trust, complementarity and innovation in the field of e-learning.
Dr. Al-Walidi noted that the significance of e-learning lies in its ability to provide quality education and guarantee equal opportunities to a maximum number of learners, expressing the Center's readiness to provide support and share expertise and experiences with ICESCO and its Member States.
Prof. Samman reaffirmed the National Commission's keenness to support ICESCO and build fruitful partnerships between the Organization and Saudi institutions and bodies within ICESCO's areas of competence.
Mr. Najmeddine bin Issam Al-Homssi, Director of Strategic Relations at the Center, gave an overview of the Center's roles and goals, which focus on improving the quality of e-learning, granting authorizations, overseeing programs, conducting research works and studies, and providing consultation in the field of e-learning.
At the close of the meeting, the two parties agreed to set up a joint working team to outline the parameters of the partnership between ICESCO and the Center. They also agreed to continue meeting to draft executive programs to be agreed upon.