Inauguration of Headquarters of ICESCO Academic Chair at Euro-Mediterranean University of Fez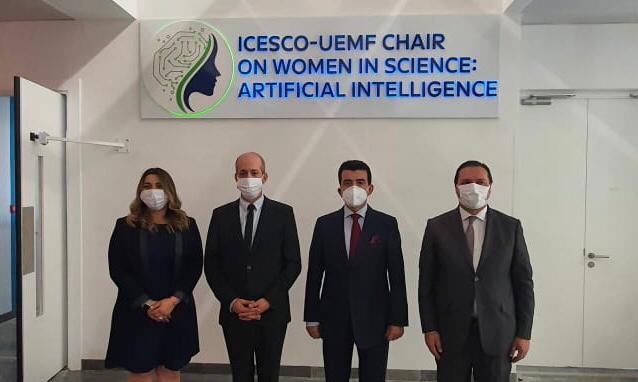 18 June 2021
The headquarters of the Euro-Mediterranean University of Fez (UEMF), in Morocco, saw the inauguration of the headquarters of ICESCO Chair on "Women in Science: Artificial Intelligence and the Future," whose establishment agreement was signed on May 17, 2021, with the aim of promoting scientific research on artificial intelligence, encouraging the participation of girls and women in this field, and consolidating the foresight culture.
In his address at the inauguration, Dr. Salim M. AlMalik, Director-General (DG) of the Islamic World Educational, Scientific and Cultural Organization (ICESCO), expressed his happiness at the start of the Chair's activities at Euro-Mediterranean University, which is one of the outstanding universities in the Islamic world despite its young age.
Dr. AlMalik added that the establishment of the Chair, which falls within the framework of ICESCO Year of Women 2021, will contribute to encouraging and supporting women and girls in the field of science, stressing that enhancing women's opportunities to study and use artificial intelligence applications will contribute to achieving gender equality.
Dr. Bousmina Mostapha, UEMF President, indicated that women represent 51 percent of the University's staff. "UEMF has also distinguished female students. ICESCO Academic Chair will contribute to achieving gender equality by building the capacities of young women and enhancing their presence and contribution in the field of artificial intelligence and other new areas," he underscored.
Abdelhak Azzouzi, a member of UEMF's Board of Directors, said that the Chair will be a great success as it aims at developing international partnerships, providing training on research and innovation, and attracting young researchers from the ICESCO Member States to develop algorithms and artificial intelligence technologies for the benefit of society.
Dr. Maha Kamira, who is the charge of the Chair, reviewed the key measures and steps that have been taken since the signing of the establishment agreement, stressing that the University, in coordination with ICESCO Center for Strategic Foresight, laid down the objectives of the Chair. Among its goals is to provide opportunities and support girls and women in the field of artificial intelligence. The measure includes organizing workshops, summer school, expanding the scientific knowledge base, and developing scholarship programs and student exchange programs over the next five years.
Following the inauguration, UEMF President took ICESCO DG and his delegation on a tour of the various laboratories and facilities of the University, during which many professors and students of different nationalities reviewed their scientific research and experiments.