ICESCO and UEMF Sign Agreement to Create ICESCO Chair for Arts, Science and Civilizations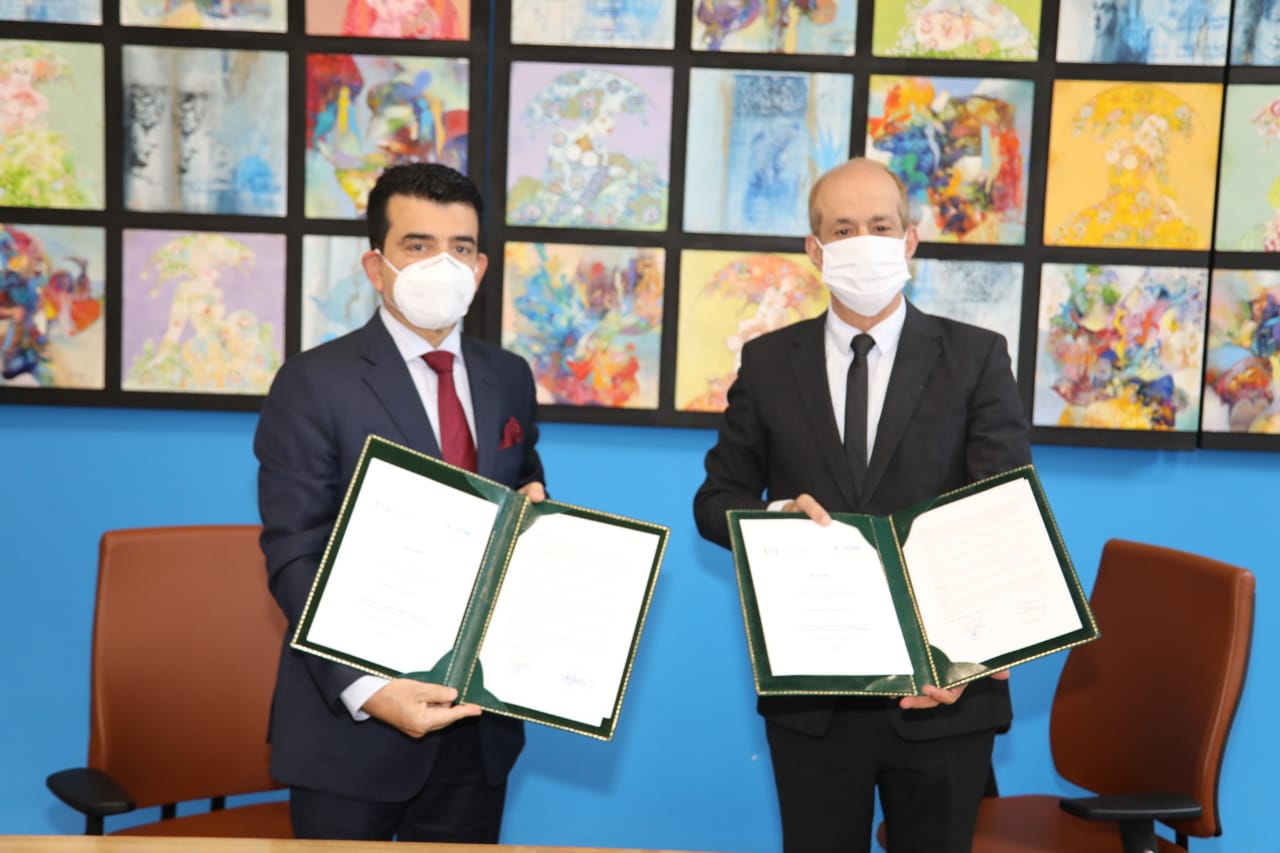 18 June 2021
The Islamic World Educational, Scientific and Cultural Organization (ICESCO) and the Euro-Mediterranean University of Fez (UEMF) in Morocco, signed an agreement on the creation of ICESCO Chair for Arts, Science, and Civilizations. The Chair will be based at the University and aims to develop scientific research works to benefit and promote the fields of arts and thoughts, and build fruitful cooperation relations among artists, researchers and students, especially the youth.
The Chair also aims to promote knowledge-based economy and human development through scientific research and cultural networking between the different educational institutions and universities in the ICESCO Member States.
The parties signed the Agreement on Thursday, June 17, 2021, during a ceremony held at the University headquarters in Fez. Dr. Salim M. AlMalik, ICESCO Director-General (DG), and Dr. Mostapha Bousmina, UEMF President, signed the Agreement, in the presence of several heads of ICESCO sectors and several University officials, including Dr. Abdelrahman Tankoul, Official in charge of the Chair.
In his address at the signing ceremony, ICESCO DG expressed his delight in signing the key document with the University, noting that the visit ICESCO delegation made to the University's various facilities and labs provided insights into this institution's capacities, a source of pride to both its educators and students.
Dr. Bousmina also expressed his delight in signing such an agreement and thanked ICESCO for its support for scientific research, reaffirming his keenness to develop relations between the University and the Organization.
Dr. Abdelhaq Azzouzi, a member of UEMF Board of Directors, commended the signing of the Agreement, expressing his confidence that the Chair will carry out outstanding work.
According to the Agreement clauses, the Chair aims to set up a body for training and research in the Chair's main areas of specialty and seeks to involve researchers, authors and intellectuals in its missions to publicize arts, science, and civilizations, promote societies and preserve their cultures, heritage, and identities.